Here is everything you need to know about the amazing Disney movie Robin Hood including casting, reviews, fun facts and more. I hope you find this listing informative and helpful!
Robin Hood Description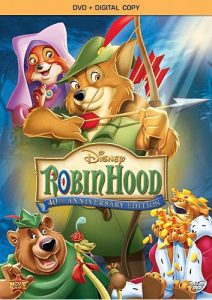 "Disney's Robin Hood" is an animated musical film released by Walt Disney Productions in 1973. It is a reimagining of the classic tale of Robin Hood, the legendary outlaw who steals from the rich to give to the poor in the Sherwood Forest.
In this version, the characters are portrayed as anthropomorphic animals, with Robin Hood as a fox and Little John as a bear. The film follows Robin Hood as he, along with his loyal friends, robs from the greedy Prince John and the Sheriff of Nottingham to help the impoverished people of Nottingham.
The movie features memorable songs such as "Oo-De-Lally" and "Love," composed by Roger Miller. The film is well-known for its humor, adventure, and heartwarming moments, making it a beloved classic in Disney's animated lineup.
"Disney's Robin Hood" was directed by Wolfgang Reitherman and is the 21st animated feature in the Disney Animated Canon. It was well-received by both critics and audiences and has become a nostalgic favorite for many Disney fans over the years.
The characters of Robin Hood and his band of Merry Men have become iconic in popular culture, with numerous adaptations and spin-offs in various media. The film's blend of humor, action, and heartwarming storytelling has made it a timeless and enduring classic in the Disney repertoire.
---
Robin Hood Crew:
Director: Wolfgang Reitherman
Producer: Wolfgang Reitherman
Music: George Bruns
---
Robin Hood Details
Robin Hood Trailer:
---