Here is everything you need to know about Walt Disney World's Magic Kingdom's Country Bear Jamboree show including history, fun facts, photos and more. I hope you find this listing informative and helpful!
Country Bear Jamboree | Disney World Description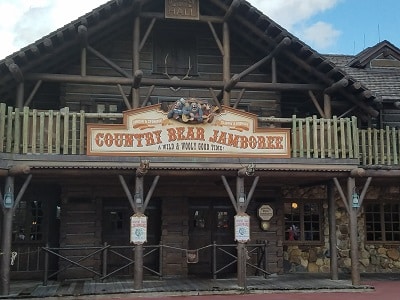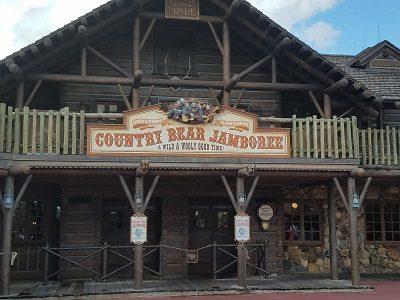 Have a knee-slappin' good time at the Country Bear Jamboree: a jolly country-and-western show starring a hilarious bunch of singing bears. Clap your hands and sing along with the Country Bears to a medley of country ditties.
Drop into the rustic frontier cabin known as "Grizzly Hall," and make your way through a cozy lobby, where classic portraits of performers past and present mingle with a collection of musical instruments. Step inside the charming theater—home to 5 stages brimming with decorative wood-carved prosceniums and hanging red curtains—and take a seat before the lights dim.
A Hilarious Hoedown 
Join a lifelike cast of 18 hillbilly bears as they perform—through the magic of Audio-Animatronics—a 16-minute, foot-stompin', back-slappin' musical revue celebrating America's country-western heritage. Clap along to original and classic country tunes during this fun-filled hootenanny, and behold the zaniest group of bears the world has ever known, as they display their musical know-how.
Overflowing with humor and heart plus a few surprises, this crowd favorite features an uplifting down-home, southern sensibility your whole family is sure to love. (source)
Show Music:
---
Country Bear Jamboree | Disney World Fun Facts
The show has had a few seasonal overlays over the years:

Country Bear Christmas Special (1984-2005)
Country Bear Vacation Hoedown (1986-1992)

The current version of the show is roughly 1.3 shorter than the original.
The show was sponsored by Pepsi/Frito-Lay from 1971-1981.
---
Country Bear Jamboree | Disney World Details