Here is everything you need to know about Walt Disney World's Magic Kingdom's Country Bear Jamboree show including history, fun facts, photos and more. I hope you find this listing informative and helpful!
Description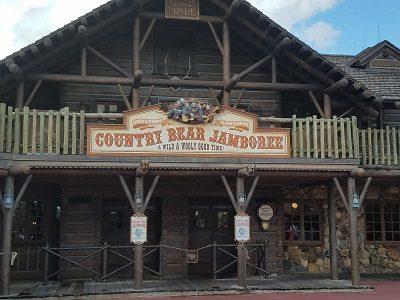 Country Bear Jamboree is a classic and beloved stage show located in Frontierland at Magic Kingdom Park, one of the theme parks at Walt Disney World Resort in Florida. The attraction is an iconic part of Disney history, having originally opened at Disneyland in California before being brought to Walt Disney World in 1971.
The show takes place inside Grizzly Hall, a rustic theater that resembles an old-fashioned frontier music hall. It features a cast of animatronic bears and other woodland creatures who put on a lively and entertaining musical performance.
The main characters of Country Bear Jamboree include Big Al, Liver Lips McGrowl, Wendell, and the Five Bear Rugs, among others. Each character has a distinct personality and performs their own unique musical number, ranging from upbeat country tunes to heartwarming ballads.
The show is filled with humorous dialogue, funny antics, and catchy songs that celebrate the spirit of the American frontier and country music. The talented animatronic figures, designed by Disney Imagineers, come to life with impressive movements and audio-animatronics technology, captivating audiences of all ages.
Country Bear Jamboree has become a nostalgic favorite for many Disney fans, as it harkens back to an earlier era of Disney theme park entertainment. It's a delightful and wholesome experience that continues to entertain guests with its timeless charm and toe-tapping tunes.
Show Music:
---
Fun Facts
The show has had a few seasonal overlays over the years:

Country Bear Christmas Special (1984-2005)
Country Bear Vacation Hoedown (1986-1992)

The current version of the show is roughly 1.3 shorter than the original.
The show was sponsored by Pepsi/Frito-Lay from 1971-1981.
---
Important Details