Here is everything you need to know about Walt Disney World's Epcot's Turtle Talk with Crush show including history, fun facts, photos and more. I hope you find this listing informative and helpful!
Description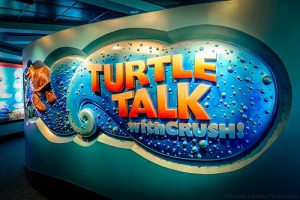 Turtle Talk with Crush is an interactive and innovative attraction located at Epcot, one of the four theme parks at Walt Disney World Resort in Florida. This delightful and family-friendly experience allows guests to step into the underwater world of Finding Nemo and engage in real-time conversations with Crush, the laid-back and surfer-dude sea turtle from the beloved Disney-Pixar film.
The attraction takes place in the Seas with Nemo & Friends pavilion, which features a massive and immersive aquarium showcasing a diverse array of marine life. Inside the pavilion's theater, guests are invited to sit on the floor in front of a large, window-like screen. As the lights dim, Crush magically appears on the screen, seemingly swimming around in his ocean home.
What makes Turtle Talk with Crush truly unique is the use of live improvisational technology. Crush interacts directly with the audience, recognizing and engaging with individual guests in real time. Using voice recognition technology, Crush responds to guests' questions, comments, and gestures, creating the illusion of a genuine conversation with the beloved character.
Throughout the experience, Crush shares his laid-back attitude and humorous observations, providing entertaining and educational insights into life under the sea. The show is filled with laughter and surprises as Crush interacts with guests of all ages, encouraging them to participate and become part of the storytelling.
Turtle Talk with Crush is designed to be highly inclusive and interactive, ensuring that each show is a one-of-a-kind experience. It fosters a sense of wonder and joy, leaving guests with lasting memories of their encounter with Crush and his ocean friends.
This attraction is especially popular among families with young children, who delight in the magical experience of talking with a Disney character "in person." The heartwarming and interactive nature of Turtle Talk with Crush embodies the spirit of Disney's commitment to creating immersive and unforgettable experiences for guests of all ages.
---
Important Details