Here is everything you need to know about the amazing Disney movie Descendants 3 including casting, reviews, fun facts and more. I hope you find this listing informative and helpful!
Descendants 3 Description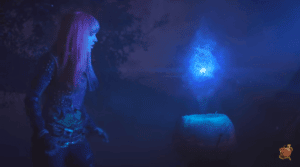 "Descendants 3" is the third and final installment in the popular Disney Channel Original Movie franchise "Descendants." It was released in 2019 and continues the story of the teenage children of Disney's iconic villains.
The film revolves around Mal (played by Dove Cameron), Evie (played by Sofia Carson), Jay (played by Booboo Stewart), and Carlos (played by Cameron Boyce, in his final film appearance before his passing), who are the teenage children of Maleficent, the Evil Queen, Jafar, and Cruella de Vil, respectively. The VKs (Villain Kids) have successfully integrated into Auradon, the kingdom of Disney heroes, and are living a seemingly happy life.
However, when a dark force threatens the safety of Auradon, the VKs must band together with their friends to defend their home and the people they love. Along the way, they encounter challenges, make sacrifices, and learn important lessons about friendship, loyalty, and the power of good.
"Descendants 3" explores deeper themes of identity and belonging as Mal struggles with her dual heritage and the pressure of being a good leader for both Auradon and the Isle of the Lost, where the villains are exiled.
The film is filled with catchy musical numbers, exciting action sequences, and heartfelt moments that resonate with the audience. It also pays tribute to the late Cameron Boyce, who portrayed Carlos, with a touching dedication during the end credits.
"Descendants 3" was well-received by fans and became one of the most-watched cable television movies of the year. It marked the end of a beloved franchise and left fans with a bittersweet feeling of nostalgia and appreciation for the journey of the VKs. The film's message of unity, understanding, and acceptance continues to resonate with audiences, making it a significant part of Disney Channel movie history.
---
Descendants 3 Cast:
Dove Cameron: Mal, daughter of Maleficent
Cameron Boyce: Carlos, son of Cruella de Vil
Booboo Stewart: Jay, son of Jafar
Sofia Carson: Evie, daughter of Evil Queen
Mitchell Hope: Ben, son of Queen Belle and Beast
China Anne McClain: Uma, daughter of Ursula
Brenna D'Amico: Jane, daughter of Fairy Godmother
Melanie Paxson: Fairy Godmother from Cinderella
Jedidiah Goodacre: Chad Charming, son of Cinderella and Prince Charming
Zachary Gibson: Doug, son of Dopey from Snow White and the Seven Dwarfs
Sarah Jeffery: Princess Audrey (daughter of Princess Aurora and Prince Phillip)
Thomas Doherty: Harry, son of Captain Hook
Dylan Playfair: Gil, son of Gaston
Anna Cathcart: Dizzy, daughter of Drizella
Dan Payne: the Beast
Keegan Connor Tracy: Belle
Judith Maxie: Queen Leah (Princess Audrey's grandmother)
Jadah Marie: Celia (the daughter of Dr. Facilier)
Jamal Sims: Dr. Facilier from The Princess and the Frog
Cheyenne Jackson: Hades (the ruler of the underworld)
Christian Convrey: Squeaky (one of the twin sons of Smee)
Luke Roessler: Squirmy (one of the twin sons of Smee)

---
Descendants 3 Crew:
Director: Kenny Ortega
Producer: Wendy Japhet
Writers: Josann McGibbon and Sara Parriot
---
Descendants 3 Details
Movie Studio: Disney
Type of Movie: Live Action
Movie Platform: Disney Channel Original Movie
Descendants 3 Trailer:
---