Here is everything you need to know about the amazing Disney movie Descendants including casting, reviews, fun facts and more. I hope you find this listing informative and helpful!
Descendants Description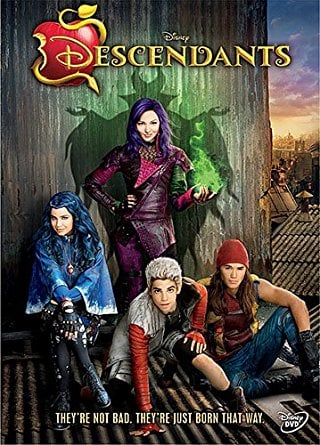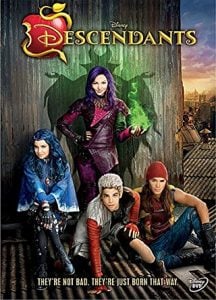 With a knowing wink at traditional fairy tales, Disney's "Descendants" fuses castles with classrooms to create a contemporary, music-driven story about the challenges adolescent offspring face in living up to parental and peer expectations. With unexpected characterization, plot twists and turns, and dashes of wry humor, the movie is designed to appeal to kids and grownups alike as its story playfully presents the possibilities of what happened after the "happily ever after."
Driven by exciting music and performance, the story is set in the idyllic kingdom of Auradon where Ben, the benevolent teenaged son of the King and Queen (Beast and Belle from "Beauty and the Beast"), is poised to take the throne. His first proclamation: offer a chance at redemption to Mal, Evie, Carlos and Jay, the trouble-making offspring of Maleficent, the Evil Queen, Cruella de Vil and Jafar, who have been imprisoned on the forbidden Isle of the Lost for 20 years. These villainous descendants are allowed into Auradon for the first time  to attend prep school alongside the teenage progeny of Fairy Godmother, Cinderella, Sleeping Beauty and Mulan. Only time will tell if these evil teens follow in the footsteps of their wicked parents! (source)
---
Descendants Fun Facts
The film was directed by Kenny Ortega, who also directed the "High School Musical" trilogy.
Dove Cameron, who plays the lead role of Mal, is the first actor to play two different Disney Channel Original Movie characters at the same time. She also starred in "Liv and Maddie" at the time of "Descendants" filming.
The film's original script had a much darker tone and included a subplot about a forbidden romance between Mal and Carlos, but it was ultimately cut from the final version.
The names of the four main characters – Mal, Evie, Carlos, and Jay – are all shortened versions of their parents' names – Maleficent, Evil Queen, Cruella de Vil, and Jafar.
The film's soundtrack includes songs written by some of the biggest names in pop music, including Adam Schlesinger, Antonina Armato, and Tim James.
The film was so popular that it spawned two sequels, "Descendants 2" and "Descendants 3."
The characters' costumes were designed to be both fashionable and functional, with each character's wardrobe reflecting their personality and the world they come from.
The film was shot on location in Vancouver, Canada, and some of the sets were designed to be modular so they could be easily reconfigured for different scenes.
---
Descendants Cast:
Dove Cameron: Mal, daughter of Maleficent
Cameron Boyce: Carlos, son of Cruella de Vil
Booboo Stewart: Jay, son of Jafar
Sofia Carson: Evie, daughter of Evil Queen
Mitchell Hope: Ben, son of Queen Belle and Beast
Melanie Paxson: Fairy Godmother from Cinderella
Brenna D'Amico: Jane, daughter of Fairy Godmother
Sarah Jeffery: Audrey, daughter of Princess Aurora and Prince Phillip
Zachary Gibson: Doug, son of Dopey from Snow White and the Seven Dwarfs
Jedidiah Goodacre: Chad Charming, son of Cinderella and Prince Charming
Dianne Doan: Lonnie, daughter of Fa Mulan and Li Shang
Dan Payne: Beast from Beauty and the Beast
Keegan Connor Tracy: Belle from Beauty and the Beast
Wendy Raquel Robinson: Cruella de Vil
Maz Jobrani: Jafar
Kathy Najimy: Evil Queen
Kristin Chenoweth: Maleficent
---
Descendants Crew:
Writers: Josann McGibbon and Sara Parriott
Director: Kenny Ortega
Producers: Tracey Jeffrey and Judy Taylor
---
Descendants Details
Movie Studio: Disney
Type of Movie: Live Action
Movie Platform: Disney Channel Original Movie
Descendants Trailer:
---