Here is everything you need to know about the amazing Disney movie Descendants including casting, reviews, fun facts and more. I hope you find this listing informative and helpful!
Description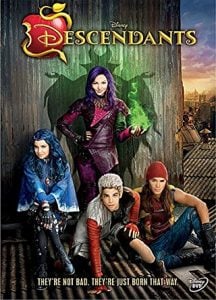 "Descendants" is a Disney Channel Original Movie that premiered in 2015. It is the first installment in the popular "Descendants" franchise. The film is directed by Kenny Ortega and features a talented young cast.
The story is set in a kingdom called Auradon, where all the Disney heroes and heroines live in harmony. The son of Belle and the Beast, Prince Ben (played by Mitchell Hope), is about to become king. As his first official proclamation, he decides to give the teenage children of the Disney villains a chance at redemption. Mal (played by Dove Cameron), daughter of Maleficent; Evie (played by Sofia Carson), daughter of the Evil Queen; Jay (played by Booboo Stewart), son of Jafar; and Carlos (played by Cameron Boyce), son of Cruella de Vil, are selected to attend Auradon Prep, the school for the children of Disney royalty.
The VKs (Villain Kids) are tasked with assimilating into Auradon society and leaving behind their villainous ways. As they navigate the challenges of fitting in and overcoming their own struggles, they discover that their actions and choices can shape their own destinies.
"Descendants" combines elements of fantasy, comedy, and musical with a modern twist on classic Disney characters. The film's catchy musical numbers and engaging storyline captivated audiences, making it a huge success. It also spawned two sequels, "Descendants 2" and "Descendants 3," which further explored the adventures and growth of the VKs.
The movie explores themes of self-discovery, friendship, and the power of good over evil. It celebrates the idea that everyone has the potential to be good and make positive choices, regardless of their background or lineage. "Descendants" became a beloved franchise among Disney Channel fans and left a lasting impact on popular culture.
---
Descendants Fun Facts
The film was directed by Kenny Ortega, who also directed the "High School Musical" trilogy.
Dove Cameron, who plays the lead role of Mal, is the first actor to play two different Disney Channel Original Movie characters at the same time. She also starred in "Liv and Maddie" at the time of "Descendants" filming.
The film's original script had a much darker tone and included a subplot about a forbidden romance between Mal and Carlos, but it was ultimately cut from the final version.
The names of the four main characters – Mal, Evie, Carlos, and Jay – are all shortened versions of their parents' names – Maleficent, Evil Queen, Cruella de Vil, and Jafar.
The film's soundtrack includes songs written by some of the biggest names in pop music, including Adam Schlesinger, Antonina Armato, and Tim James.
The film was so popular that it spawned two sequels, "Descendants 2" and "Descendants 3."
The characters' costumes were designed to be both fashionable and functional, with each character's wardrobe reflecting their personality and the world they come from.
The film was shot on location in Vancouver, Canada, and some of the sets were designed to be modular so they could be easily reconfigured for different scenes.
---
Cast:
Dove Cameron: Mal, daughter of Maleficent
Cameron Boyce: Carlos, son of Cruella de Vil
Booboo Stewart: Jay, son of Jafar
Sofia Carson: Evie, daughter of Evil Queen
Mitchell Hope: Ben, son of Queen Belle and Beast
Melanie Paxson: Fairy Godmother from Cinderella
Brenna D'Amico: Jane, daughter of Fairy Godmother
Sarah Jeffery: Audrey, daughter of Princess Aurora and Prince Phillip
Zachary Gibson: Doug, son of Dopey from Snow White and the Seven Dwarfs
Jedidiah Goodacre: Chad Charming, son of Cinderella and Prince Charming
Dianne Doan: Lonnie, daughter of Fa Mulan and Li Shang
Dan Payne: Beast from Beauty and the Beast
Keegan Connor Tracy: Belle from Beauty and the Beast
Wendy Raquel Robinson: Cruella de Vil
Maz Jobrani: Jafar
Kathy Najimy: Evil Queen
Kristin Chenoweth: Maleficent
---
Crew:
Writers: Josann McGibbon and Sara Parriott
Director: Kenny Ortega
Producers: Tracey Jeffrey and Judy Taylor
---
Additional Details
Movie Studio: Disney
Type of Movie: Live Action
Movie Platform: Disney Channel Original Movie
---
Descendants Trailer:
---