Here is everything you need to know about the amazing Disney movie Descendants 2 including casting, reviews, fun facts and more. I hope you find this listing informative and helpful!
Description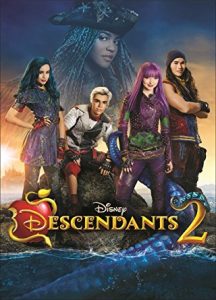 "Descendants 2" is a Disney Channel Original Movie (DCOM) released in 2017. It is the sequel to the 2015 film "Descendants" and continues the story of the teenage children of Disney villains who attend Auradon Prep, a school for the offspring of Disney heroes.
The movie picks up where the first film left off, with Mal (daughter of Maleficent), Evie (daughter of the Evil Queen), Carlos (son of Cruella de Vil), and Jay (son of Jafar) adjusting to their lives in Auradon. However, when Mal starts feeling overwhelmed by the pressure to be perfect, she decides to return to the Isle of the Lost, where the other villains live. Her friends follow her to bring her back, but they encounter Uma, Ursula's daughter, who seeks revenge on Mal for leaving her behind.
As the story unfolds, the characters face new challenges, confront their pasts, and learn valuable lessons about friendship, loyalty, and finding their true selves. "Descendants 2" features catchy musical numbers, colorful visuals, and an engaging storyline that appeals to both children and young adults.
The film also introduces new characters, such as Uma (played by China Anne McClain), who becomes a central antagonist and adds depth to the story. The cast includes Dove Cameron as Mal, Sofia Carson as Evie, Cameron Boyce as Carlos, Booboo Stewart as Jay, and Mitchell Hope as Ben, the son of Belle and the Beast.
"Descendants 2" received positive reviews from viewers and critics alike for its entertainment value, energetic performances, and messages of self-acceptance and friendship. The movie's success led to the release of a third installment, "Descendants 3," in 2019, concluding the popular franchise.
---
Descendants 2 Fun Facts
Production of the movie was announced on June 10, 2016.
It premiered across 6 Disney networks simultaneously.
The movie's premier reached 13 million viewers with the flagship broadcast on The Disney Channel seeing 5.3 million viewers.
Descendants 2 music videos on the DisneyMusicVevo channel, have been viewed 135 million times.
---
Crew:
Director: Kenny Ortega
Executive Producers: Kenny Ortega, Wendy Japhet, Sara Parriott and Josann McGibbon
Writers: Sara Parriott and Josann McGibbon
Choreographers: Kenny Ortega and Tony Testa
Producer: Shawn Williamson
Production Designer: Mark Hofeling
Costume Designer: Kara Saun
Director of Photography: Mark Irwin
Hairstylist: Debra Johnson
Makeup Artist: Tana Moldovanos
Editor: Don Brochu
Casting Directors: Jason La Padura, Natalie Hart, Kendra Patterson and Candice Elzinga
Composer: David Lawrence
Production Company: Bad Angels Production
---
Additional Details
Movie Studio: Disney
Year Released: 2017
Type of Movie: Live Action
Movie Platform: Disney Channel Original Movie
---
Descendants 2 Trailer:
---