Here is everything you need to know about the amazing Disney series Mickey Mouse Clubhouse including casting, episodes, fun facts and more. I hope you find this listing informative and helpful!
Mickey Mouse Clubhouse Description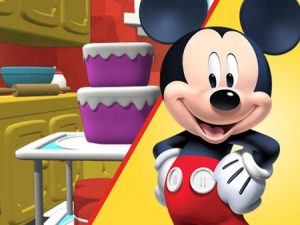 "Mickey Mouse Clubhouse" is an animated television series that premiered on the Disney Channel on May 5, 2006. The show was aimed at preschool-aged children and became a popular and enduring part of Disney's programming for young audiences.
The series features Mickey Mouse and his friends, including Minnie Mouse, Donald Duck, Daisy Duck, Goofy, and Pluto, engaging in various adventures and solving problems in their magical Clubhouse. Each episode follows a simple storyline and incorporates interactive elements, encouraging young viewers to participate by solving puzzles, answering questions, and engaging with the characters.
The iconic "Hot Dog Dance" is a recurring musical segment in each episode, where the characters perform a catchy dance to the tune of the "Hot Dog Song." The dance has become a signature part of the show and is beloved by young fans worldwide.
"Mickey Mouse Clubhouse" is not only entertaining but also educational, as it focuses on basic early learning concepts such as numbers, shapes, colors, and problem-solving. The characters use "Mouseketools," everyday objects with special abilities, to overcome obstacles and complete tasks.
The show's format and characters are designed to be friendly and non-threatening, making it suitable for very young children. The combination of familiar Disney characters, interactive elements, and educational content has made "Mickey Mouse Clubhouse" a favorite among preschoolers and a successful franchise for the Disney brand.
---
Mickey Mouse Clubhouse Cast:
Wayne Allwine and Bret Iwan: Mickey Mouse
Tony Anselmo: Donald Duck
Russi Taylor: Minnie Mouse
Tress MacNeille: Daisy Duck, Chip
Bill Farmer: Goofy, Pluto, Goofbot
Will Ryan: Willie the Giant
April Winchell: Clarabelle Cow
Jim Cummings: Pete
Dee Bradley Baker: Boo Boo Chicke, Santa Claus
Frank Welker: Figaro, Butch
Rob Paulsen: Toodles
Corey Burton:  Ludwig von Drake, Dale
---
Mickey Mouse Clubhouse Crew:
Creator and Executive Producer: Bobs Gannaway
Directors: Rob LaDuca, Sherie Pollack, Howy Parkins, Victor Cook, Donovan Cook, Broni Likomanov and Phil Weinstein
---
Mickey Mouse Clubhouse Details:
Year of Debut: 2006
Year of Finale: 2016
Type of Series: Animated
TV Channel/Platform: Playhouse Disney, Disney Junior
Mickey Mouse Clubhouse Trailer:
Buy Movie
---
Mickey Mouse Clubhouse Episode List:
Special Episode Groupings:
Mickey Saves Santa (Season 1)
Mickey's Great Clubhouse Hunt (Season 1)
Mickey's Treat (Season 1)
A Goofy Fairytale (Season 1)
Mickey's Storybook Surprises (Seasons 1 & 2)
Mickey's Big Splash (Seasons 1 & 2)
Mickey's Adventures in Wonderland (Season 2)
Choo-Choo express (Season 2)
Minnie's Bow-Tique (Seasons 2 & 3)
Road Rally (Season 3)
Numbers Round-Up (Seasons 1-3)
Minnie's Masquerade (Seasons 1-3)
Mickey's Great Outdoors (Seasons 1-3)
Space Adventure (Season 3)
I Heart Minnie (Seasons 1-3)
Mickey and Donald Have a Farm (Seasons 1-4)
Minnie's the Wizard of Dizz (Seasons 3 & 4)
Quest for the Crystal Mickey (Seasons 2-4)
Super Adventure! (Seasons 3 & 4)
Around the Clubhouse World (Seasons 1-4)
---