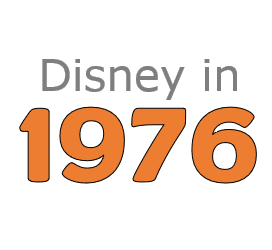 The Walt Disney Company has a rich and lengthy history with decades of amazing movies, shows and park experiences. To commemorate Disney's 100th birthday this year, I am spotlighting the company's history year by year in this new 'Disney by the Years' series.
Here is a quick rundown of everything that happened in the world of Disney in the year 1976. I hope you find this lookback in time helpful and entertaining.
Disney Company Headlines in 1976:
1976 was a transitional year for Disney as a group of new leaders were ushered in including new Disney CEO Card Walker and a new head of film production (future Disney CEO and Walt's son-in-law) Ron Miller.
Disney Movies Headlines in 1976:
In 1976, Disney released several movies, including:
As was custom at this time, Disney also re-released a number of classic movies to theaters in 1976:
Overall, as was the case with much of the 1970's, 1976 was not a particularly strong year at the box office for Disney. As we will see in the coming years, this theatrical slump won't end for some time.
Disney Parks Headlines in 1976:
Disneyland Headlines:
Disneyland didn't see a ton of change in 1976. A few notable changes include:
Disney World Headlines:
With Disney World a very young five years old in 1976, there wasn't a ton of change at the resort in 1976. The most notable move of the year was the opening of Disney's River Country water park on Bay Lake.
Disney Television Headlines in 1976:
In September, The Muppet Show began its run in syndication. While the Muppets were not a Disney property at that point, they certainly played and still play a significant role in the history of Disney. This show was their first real introduction to a large number of people in the 70's.
The Wonderful World of Disney continued its Sunday night superiority for NBC in 1976, showcasing Disney films, specials and vignettes.
In April, the America on Parade special ran on TV to commemorate the country's bicentennial.
In December, another special titled Christmas in Disneyland with Art Carney on TV
That's all for 1976. Stay tuned for in-depth looks at additional years in the very near future!