Here is everything you need to know about Walt Disney World's Magic Kingdom's Under the Sea- Journey of The Little Mermaid ride including history, fun facts, photos and more. I hope you find this listing informative and helpful!
Description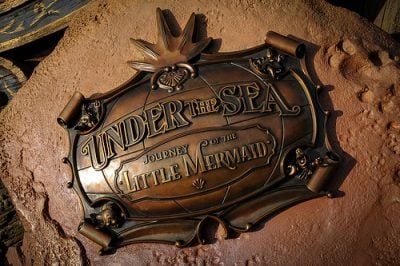 Under the Sea – Journey of The Little Mermaid is a captivating dark ride located in the Fantasyland area of Magic Kingdom at Walt Disney World Resort. Inspired by Disney's animated classic "The Little Mermaid," this attraction takes guests on an enchanting underwater adventure with Ariel and her friends.
As guests approach the attraction, they are immersed in the whimsical world of "The Little Mermaid." The exterior of the ride resembles Prince Eric's castle, and as they enter, they find themselves transported to the underwater kingdom of Atlantica.
The ride begins in a clamshell-shaped vehicle, reminiscent of Ariel's underwater journey in the movie. Guests follow along as the story unfolds, moving through colorful scenes that recreate iconic moments from the film. Under the Sea – Journey of The Little Mermaid features state-of-the-art audio-animatronics and impressive special effects, bringing beloved characters like Sebastian, Flounder, and Ursula to life.
One of the highlights of the attraction is the "Under the Sea" scene, where guests find themselves surrounded by a vibrant underwater world filled with singing fish, dancing sea creatures, and a memorable rendition of the beloved song "Under the Sea."
As the adventure continues, guests experience Ariel's daring rescue by Prince Eric and witness the epic battle between Ursula and the sea creatures. The ride culminates with a beautiful and heartwarming scene where Ariel and Eric share a romantic moment in a stunning undersea setting.
Under the Sea – Journey of The Little Mermaid is a family-friendly attraction that appeals to guests of all ages. It perfectly captures the magic and charm of "The Little Mermaid" movie, allowing fans to relive the beloved story in an immersive and delightful way.
For Disney enthusiasts and fans of the beloved film, Under the Sea – Journey of The Little Mermaid is a must-visit attraction that brings the world of Ariel and her underwater friends to life in a truly magical and unforgettable experience.
---
Fun Facts
There are 183 characters included in the attraction.
70% of the attraction's characters are in the Under the Sea scene.
The Ursula audio-animatronic is 7.5 feet tall and 12 feet wide.
More than 20,000 live and artificial plants decorate the attraction, inside and out.
---
Important Details