Here is everything you need to know about Walt Disney World's Hollywood Studios' Voyage of the Little Mermaid show including history, fun facts, photos and more. I hope you find this listing informative and helpful!
Description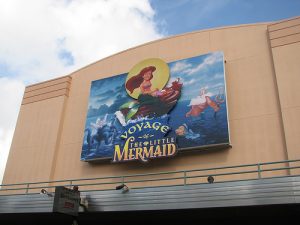 "Voyage of the Little Mermaid" is a beloved and enchanting attraction located in Disney World's Hollywood Studios theme park. This immersive experience transports guests into the magical underwater world of Disney's classic animated film, "The Little Mermaid." It's a must-visit for fans of Ariel, Flounder, Sebastian, and all the beloved characters from the undersea kingdom of Atlantica.
The adventure begins as you enter the charmingly designed theater, which is made to resemble a mystical underwater grotto. The atmosphere immediately sets the stage for the magical journey that's about to unfold. Once the show begins, guests are treated to a captivating blend of live-action performances, puppetry, animated clips, and special effects.
The story follows Ariel, the adventurous mermaid princess, as she dreams of a life above the sea and falls in love with the handsome Prince Eric. Highlights of the show include iconic musical numbers like "Under the Sea" and "Part of Your World," which are performed live and accompanied by stunning visuals.
One of the most impressive elements of "Voyage of the Little Mermaid" is the use of black light puppetry and other theatrical effects to bring characters like Ursula the sea witch to life in a truly spectacular and larger-than-life manner. The combination of live actors and these mesmerizing effects makes the show feel like an immersive dive into the animated film itself.
The show's duration is approximately 17 minutes, making it a perfect family-friendly attraction for guests of all ages. It's a great way to escape the Florida heat or take a break from the park's hustle and bustle while still enjoying a memorable Disney experience.
"Voyage of the Little Mermaid" at Disney World offers a delightful and nostalgic journey into the underwater world of Ariel and her friends, making it a cherished part of any visit to Hollywood Studios. It's a reminder that, with a little imagination and a lot of Disney magic, you can indeed become part of Ariel's world for a brief and unforgettable moment.
---
Important Details