Here is everything you need to know about the amazing Hollywood Pictures movie Born Yesterday including casting, reviews, fun facts and more. I hope you find this listing informative and helpful!
Born Yesterday Description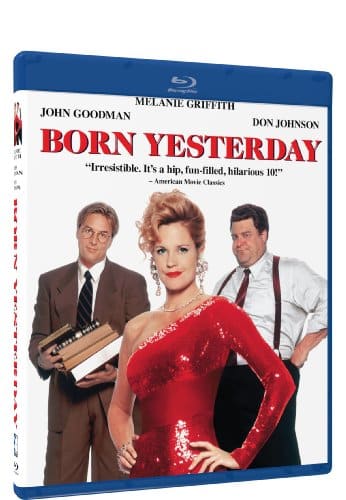 BORN YESTERDAY stars screen favorite Melanie Griffith (Working Girl) as Billie Dawn, a Las Vegas showgirl
whose lack of sophistication makes for some hilariously embarrassing moments in the Washington, D.C., social scene. That's when her overbearing boyfriend (John Goodman — The Babe) hires a well-educated and handsome journalist (Don Johnson — Guilty As Sin) to smarten her up. The improbable romance that blossoms between Billie and her tutor turns all of their lives — and Washington, D.C. — upside down!
---
Born Yesterday Cast:
Melanie Griffith: Billie Dawn
John Goodman: Harry Brock
Don Johnson: Paul Verrall
Edward Herrmann: Ed Devery
Max Perlich: JJ
Michael Ensign: Phillipe
Benjamin C. Bradlee: Alex Duffee
Sally Quinn: Beatrice Duffee
Fred Dalton Thompson: Sen. Hedges
Celeste Yarnall: Mrs. Hedges
Rondi Reed: Victoria Penny
---
Born Yesterday Crew:
Director: Luis Mandoki
Producers: Stratton Leopold, D. Constantine Conte, Chris Soldo and Stephen Traxler
Writers: Garson Kanin and Douglas McGrath
---
Born Yesterday Details
Born Yesterday Trailer:
---