Here is everything you need to know about the amazing Disney movie The Aristocats including casting, reviews, fun facts and more. I hope you find this listing informative and helpful!
The Aristocats Description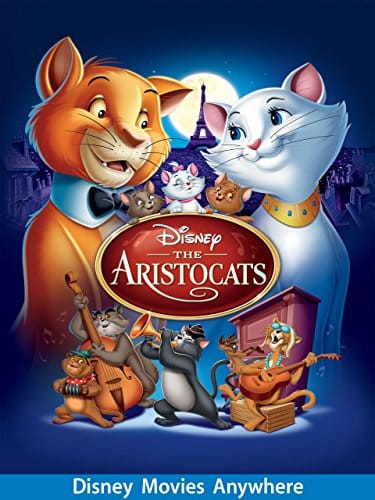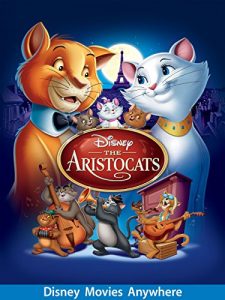 "The Aristocats" is a Disney animated film released in 1970. It is a musical comedy adventure that tells the story of a family of aristocratic cats living in Paris. The film follows the adventures of Duchess, a refined and elegant cat, and her three kittens, Toulouse, Marie, and Berlioz, who become the target of a jealous butler named Edgar.
When Madame Adelaide Bonfamille, their wealthy owner, decides to leave her fortune to her cats, Edgar hatches a plan to eliminate them and inherit the wealth himself. However, with the help of an alley cat named Thomas O'Malley and his jazzy friends, Duchess and her kittens escape Edgar's clutches and embark on a journey back home.
"The Aristocats" features delightful musical numbers, including the iconic "Everybody Wants to Be a Cat," and showcases the charm, wit, and adventure associated with Disney animated films. The film captures the vibrant atmosphere of Paris, with its beautiful animation and colorful characters.
Directed by Wolfgang Reitherman, "The Aristocats" has become a beloved classic, loved for its endearing characters, catchy songs, and heartwarming story. It has entertained generations of audiences with its combination of humor, music, and a touch of feline sophistication.
---
The Aristocats Fun Facts
"The Aristocats" was released in 1970 and was the 20th animated feature film produced by Walt Disney Studios.
The film features a cast of characters based on real breeds of cats, including Siamese, Persian, and Russian Blue cats.
The film's soundtrack features several popular songs, including "Scales and Arpeggios," which was written specifically for the film and went on to become a popular hit.
The film's setting, Paris, France, was designed to evoke the style and charm of the city during the Belle Époque period.
"The Aristocats" was the last Disney animated film to be personally overseen by Walt Disney, who died during its production.
The film's animation was done in part by future Disney legends, such as Glen Keane, who went on to animate popular Disney characters such as Ariel from "The Little Mermaid."
---
The Aristocats Crew:
Director: Wolfgang Reitherman
Producer: Winston Hibler and Wolfgang Reitherman
Music: George Bruns
---
The Aristocats Details
The Aristocats Trailer:
---