Here is everything you need to know about the amazing Disney movie The Jungle Book (2016 Live-Action) including casting, reviews, fun facts and more. I hope you find this listing informative and helpful!
The Jungle Book (2016 Live-Action) Description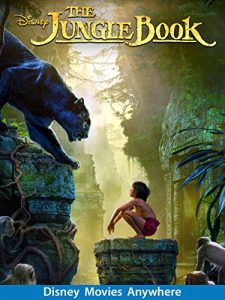 "The Jungle Book" is a 2016 live-action/CGI fantasy adventure film directed by Jon Favreau and produced by Walt Disney Pictures. It is a live-action adaptation of Disney's 1967 animated classic "The Jungle Book," based on Rudyard Kipling's book of the same name.
The film follows the story of Mowgli, a young boy who was raised by wolves in the jungle of India. With the help of his animal friends, including Baloo the bear and Bagheera the panther, Mowgli learns the ways of the jungle and becomes a part of the animal community.
However, his peaceful life is threatened by the vicious tiger Shere Khan, who sees Mowgli as a threat and wants him gone from the jungle. To protect Mowgli, Baloo, Bagheera, and other animal friends decide to help him return to the human village for his safety.
"The Jungle Book" blends live-action with stunning CGI animation to create a visually breathtaking world of talking animals and lush jungles. The film received widespread critical acclaim for its impressive visuals, strong performances, and its ability to honor the spirit of the original animated film while offering a fresh take on the story.
The cast includes Neel Sethi as Mowgli, along with an ensemble of renowned actors providing the voices for the animal characters, such as Bill Murray as Baloo, Ben Kingsley as Bagheera, Idris Elba as Shere Khan, and Scarlett Johansson as Kaa.
The movie's success at the box office and with audiences led to it becoming one of Disney's most successful live-action adaptations. Its seamless blending of live-action and CGI, along with its faithful yet innovative approach to the classic story, make "The Jungle Book" (2016) a standout film in the Disney live-action repertoire.
---
The Jungle Book (2016 Live-Action) Cast:
Neel Sethi: Mowgli
Kendrick Reyes: toddler Mowgli.
Ritesh Rajan: Mowgli's father.
Bill Murray: Baloo
Ben Kingsley: Bagheera
Idris Elba: Shere Khan
Lupita Nyong'o: Raksha
Scarlett Johansson: Kaa
Giancarlo Esposito: Akela
Christopher Walken: King Louie
Garry Shandling: Ikki
Brighton Rose: Grey Brother
Jon Favreau: Fred
Russell Peters: Rocky
Madeleine Favreau: Raquel
Sara Arrington: a Nilgai
---
The Jungle Book (2016 Live-Action) Crew:
Director: Jon Favreau
Producers: Jon Favereau and Brigham Taylor
Music: John Debney
---
The Jungle Book (2016 Live-Action) Details
The Jungle Book (2016 Live-Action) Trailer:
---