Here is everything you need to know about the amazing Disney movie The Lion King 1½  including casting, reviews, fun facts and more. I hope you find this listing informative and helpful!
The Lion King 1½  Description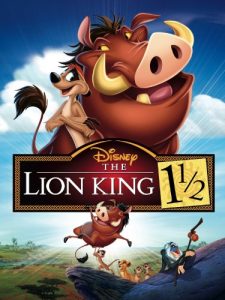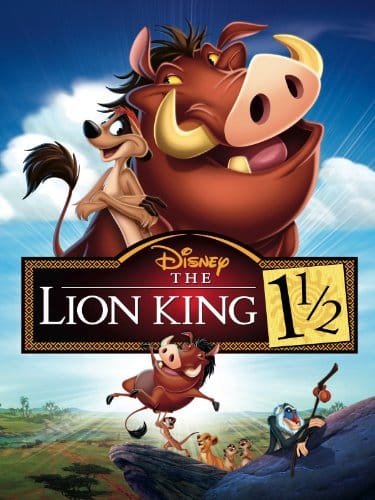 "The Lion King 1½," also known as "The Lion King 3: Hakuna Matata" in some regions, is a direct-to-video animated comedy film released by Walt Disney Pictures in 2004. It is a midquel to the original "The Lion King" and serves as a companion film that fills in the gaps and provides a different perspective on the events of the first movie.
The story revolves around Timon, the wisecracking meerkat, and his loyal friend Pumbaa, the easy-going warthog. It starts with the end of "The Lion King" when Simba defeats Scar and claims his place as king. However, Timon and Pumbaa feel overshadowed by Simba's royal responsibilities and decide to seek their own destiny.
Throughout the film, Timon and Pumbaa's adventures intersect with key moments from "The Lion King," showing what they were doing behind the scenes during those events. They provide a humorous and lighthearted retelling of the original story from their unique perspective, adding comedic elements and witty commentary.
The film also introduces new characters, such as Uncle Max, a wise meerkat, and Ma, Timon's loving mother. It explores Timon's background and his journey to find his place in the world, eventually leading him to the oasis where he meets Pumbaa. The duo becomes inseparable and embarks on a series of hilarious escapades, including encounters with iconic characters like Rafiki and Simba.
"The Lion King 1½" is praised for its humor, clever storytelling, and the way it sheds light on the behind-the-scenes antics of Timon and Pumbaa. It provides a fresh and entertaining perspective on the beloved classic and serves as a delightful addition to "The Lion King" franchise, making it a must-watch for fans of the original film.
---
The Lion King 1½  Cast:
Nathan Lane: Timon
Ernie Sabella: Pumba
Matthew Broderick: Simba
Julie Kavner: Ma
Jerry Stiller: Uncle Max
Moira Kelly: Nala
Robert Guillaume: Rafiki
Edward Hibbert: Zazu
---
The Lion King 1½  Crew:
Director: Bradley Raymond
Producers: George A. Mendoza
Music: Don L. Harper
---
The Lion King 1½  Details
The Lion King 1½  Trailer:
---