Obi-Wan Kenobi 
Last Updated on: September 12th, 2021
Who is Obi-Wan Kenobi?
Obi-Wan Kenobi is a fictional character in the Star Wars universe. He is a Jedi Knight who is first introduced in the original Star Wars film as a wise and experienced mentor to the series' protagonist, Luke Skywalker. Obi-Wan Kenobi is also a central figure in the prequel trilogy, which explores his younger years as a Padawan learner and his subsequent training of Anakin Skywalker, who would later become the infamous Darth Vader. In the Star Wars universe, Obi-Wan Kenobi is known for his intelligence, skill with a lightsaber, and commitment to the Jedi Code. He is also recognized for his heroism in the Clone Wars and his sacrifice to help the Rebel Alliance in the original trilogy. The character was played by Alec Guinness and Ewan McGregor.
The Collection:
Here is the Internet's largest collection of Obi-Wan Kenobi  related movies, TV shows, toys and other products. As always, new pieces are added to this collection regularly.
---
---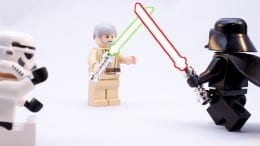 We now know Obi-Wan Kenobi was not supposed to die in the original script. Instead, he survives his infamous duel with Darth Vader! Here are the details:
---