Finding Nemo Submarine Voyage (Disneyland)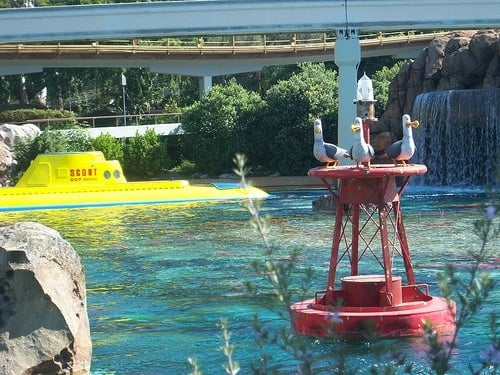 Finding Nemo Submarine Voyage Description:
In Finding Nemo Submarine Voyage, embark on an undersea research expedition to an active volcano and dive into a new Finding Nemo adventure along the way.
Climb down an open hatch inside a research submarine operated by the Nautical Exploration and Marine Observation Institute (N.E.M.O.) and take a seat in front of a crystal-clear porthole. As your friendly captain gives the order, an upward flow of bubbles suddenly fills your window view: your underwater adventure is beginning.
Forge ahead on a research study to a newly discovered volcano, sailing past divers photographing colorful sea life and age-old artifacts of an ancient civilization scattered along the seafloor. Then, hang on as your sub dives further down to avoid a coming sea storm.
Nemo's Adventure
Having made your way to deeper depths, a familiar sight suddenly comes into view: Nemo and his turtle pal Squirt—and as can be expected, Nemo's dad Marlin and forgetful friend Dory aren't far behind. Thanks to special "sonar hydrophones" located inside the submarine, you can hear what everyone's saying!
Follow Marlin and Dory on their quest to find Nemo in an exciting underwater adventure reminiscent of the hit film. Hold on tight as you ride the East Australian Current and sail through a graveyard of sunken ships. Catch up with Bruce the Shark and his gathering of fish friends and avoid a floating WWII mine. Evade the toothy bite of an anglerfish, weave your way through a school of translucent jellyfish and even find yourself inside the belly of a gigantic whale.
Maintaining the humor and heart of the original film, Finding Nemo Submarine Voyage immerses you in your very own unforgettable underwater adventure with many of your favorite Finding Nemo friends.
A Unique View
You'll see things slightly differently depending on where you sit in the submarine. Each seat provides the overall same view, but as the sub sails through the sea, you may spot Nemo at certain times when others cannot see him at all. But don't worry: everyone will be able to see and hear Nemo (and his friends) the same total number of times throughout the journey.
Photo by Castles, Capes & Clones
Disney Character(s) in this Post:
Dory (Finding Nemo)
Marlin (Finding Nemo)
Nemo (Finding Nemo)
Disney Park(s) in this Post:

Disneyland Park

---

Related News:

---

Related Articles:

---