HedBanz Disney, Guessing Game Featuring Disney Characters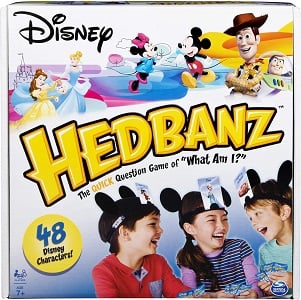 HedBanz Disney, Guessing Game Featuring Disney Characters Details:
Ready to test your Disney knowledge? Play Hedbanz Disney, the hilarious quick question game featuring all your favorite Disney characters! In this fast-paced game, players race to answer the question: "What Am I?" the fun begins as soon as players put their headbands on. Featuring the iconic ears of Disney's most famous Mouse, these headbands are sure to get the giggles going. Once the ears are on, select a card and place it in your headband. Hand out playmate and 5 clue cards to each player. Now take turns asking another player "what Am I" or "what Am I not?" to answer, the chosen player will give you their clue cards that describe your character card! Use the clues to guess correctly and win! Guess incorrectly and you can ask a different player for clue cards on your next turn. Perfect for any Disney fan in your life, This game encourages kids to use their deductive reasoning skills to find out if they're Anna from frozen, or actually Woody from Toy Story. Keep your family guessing with headbands Disney!
---
Related Articles:
---