Noises Off (Touchstone Movie)
Here is everything you need to know about the amazing Touchstone movie Noises Off including casting, reviews, fun facts and more. I hope you find this listing informative and helpful!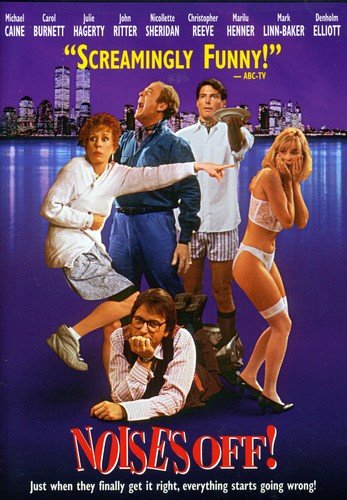 Noises Off Details:
There's no business like show business, and when a less-than-stellar troupe of thespians tries to get their act together and take it on the road, there's comedy in their tragedy. But the show must go on! And before the curtain's rise on opening night of their British sex-farce production entitled "Nothing On," this lumbering cast fumbles through a last-minute rehearsal in which they all suffer the slings and arrows of outrageous fortune. From rehearsals to opening night, relationships and romantic intrigues in this ensemble rise as their performance qualities fall.
Key Cast:
Michael Caine: Lloyd Fellowes
Carol Burnett: Dotty Otley / Mrs. Clackett
Denholm Elliott: Selsdon Mowbray / The Burglar
John Ritter: Garry Lejeune / Roger Tramplemain
Christopher Reeve: Frederick Dallas / Philip Brent
Nicollette Sheridan: Brooke Ashton / Vicki
Marilu Henner: Belinda Blair / Flavia Brent
Julie Hagerty: Poppy Taylor
Mark Linn-Baker: Tim Allgood
Key Crew:
Director: Peter Bogdanovich
Producer: Frank Marshall
Screenplay: Marty Kaplan
---
Related Articles:
---