The Little Mermaid – Ariels Undersea Adventure (Disneyland)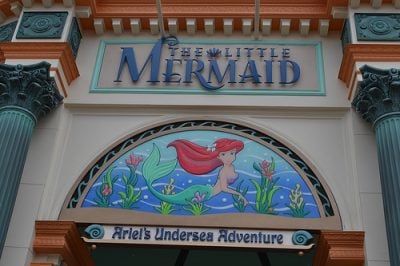 The Little Mermaid – Ariels Undersea Adventure Description:
On Ariels Undersea Adventure, step into a clam to visit favorite characters and enjoy unforgettable music from the animated classic, The Little Mermaid.
The adventure begins when you step inside an elegant Victorian Exposition-style building. Marvel at the ornate 86-foot-long, hand-painted mural, as you climb aboard a giant clam shell—your "clam-mobile."
Slowly descend to an underwater world. Waiting for you are favorite characters from the film, like Ariel, Prince Eric, Sebastian, Flounder, Scuttle and the wicked sea witch Ursula—a towering figure 7.5-feet tall and 12-feet wide!
Relive magical moments and visit memorable places during your underwater adventure—from Ariel's gadget-filled grotto to a boisterous crab-conducted bandstand to a sinister eel-infested lair.
In addition to astounding sights, delight in memorable music. You may find yourself singing along with unforgettable songs, like "Part of Your World," "Under the Sea," "Poor Unfortunate Souls" and "Kiss the Girl."
Photo by Castles, Capes & Clones
Disney Character(s) in this Post:
Ariel (The Little Mermaid)