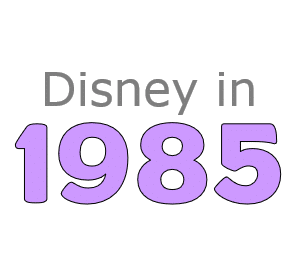 The Walt Disney Company has a rich and lengthy history with decades of amazing movies, shows and park experiences. To commemorate Disney's 100th birthday this year, I am spotlighting the company's history year by year in this new 'Disney by the Years' series.
Here is a quick rundown of everything that happened in the world of Disney in the year 1985. I hope you find this lookback in time helpful and entertaining.
Disney Movies Headlines in 1985:
In 1985, Disney released several movies, including:
In 1985, Touchstone released several movies, including:
As was custom at this time, Disney also re-released a number of classic movies to theaters in 1989:
To say 1985 was a disappointing year for Disney movies would be an extreme understatement. Big budget movies like The Black Cauldron and Return to Oz were bombs at the box office and Touchstone was just a year old in 1985, so it was still a year or two from really hitting its stride. Disappointing years at the box office will continue to be an issue for Disney for another four years until a little mermaid swam onto the big screen. More on that in a future post.
Disney Parks Headlines in 1985:
Disney would make a move in 1985 that would pay off exponentially in the parks and elsewhere for years to come. In February, they entered into an agreement with George Lucas' Lucasfilm to develop attractions in Disney Parks. This relationship would give us Star Tours in a few years as well as the various Indiana Jones attractions. It was also a big step in building the strong relationship the two companies shared when Lucas ultimately agreed to sell his company to Disney decades later.
Another big parks announcement in 1985 was the company's intention to build a new theme park in Europe in May. Euro Disney would open seven years later in 1992 outside Paris, France.
Disneyland Headlines:
Disneyland changes in 1985 included:
Disney World Headlines:
The biggest headline of 1985 for Walt Disney World was the announcement of a third Hollywood-themed park on the property. Disney-MGM Studios would open four years later on May 1, 1989.
Additional Disney World changes in 1985 included:
Here is a complete rundown of every ride, attraction, restaurant and shop at the Magic Kingdom over the years.
Disney Television Headlines in 1985:
The Disney Channel is still young in 1985 and looking to establish an identity and viewership. A large portion of content on the Disney Channel at this time were older films, shows and documentaries.
Elsewhere on TV, Disney produced cartoons The Wuzzles (CBS) and The Adventures of the Gummi Bears (NBC) became almost instant hits on Saturday mornings and would begin a stretch where Disney would gain more buzz about their animation from what they were putting on TV than in theaters.
Also on TV in 1985 was the NBC special Disneyland's 30th Anniversary Celebration in February.
That's all for 1985. Stay tuned for in-depth looks at additional years in the very near future!