One of the most exciting, and sometimes challenging, parts of visiting a Disney Park is finding your favorite Disney character live and in the flesh. Some characters have stationary meet and greet spots; some host character meals; some float around the parks and some are in multiple spots (due to Disney magic, of course) at the same time. As expected, one of the most popular Disney characters to find and take a pic with at Disney World is the iconic Mickey Mouse.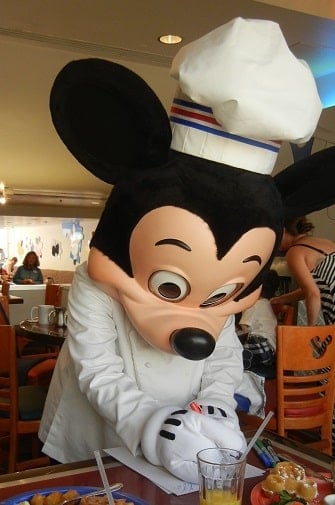 Here is a rundown of all of my "Where to Find" Disney character posts.
Where can you find Mickey Mouse at Disney World?
Mickey Mouse is one of those Disney characters that is in multiple spots and tends to move around quite a bit. Here is my best attempt at a list of where you can find Mickey Mouse at each of the Disney World parks and a few resorts.
Mickey Mouse at the Magic Kingdom:
Mickey Mouse at Epcot:
Garden Grill – Character Meal**
Mickey Mouse at Disney's Hollywood Studios:
Mickey and Minnie Starring in Red Carpet Dreams – Meet n Greet
Fantasmic! – Stage Show*
Mickey Mouse at Disney's Animal Kingdom:
Tusker House – Character Meal**
Adventurers Outpost – Meet n Greet*
Mickey Mouse at various Walt Disney World Resorts:
Chef Mickey's (Contemporary Resort) – Character Meal**
Mickey's Backyard BBQ (Fort Wilderness Resort) – Character Meal**
Ohana (Polynesian Resort) – Character Meal**
Also worth noting is that Mickey is readily available at Halloween and Christmas time during Mickey's Not So Scary Halloween Party and Mickey's Very Merry Christmas Party.
**Requires Dining Reservations
I hope this helps. If you have other spots you have found Mickey in, please leave a comment below and share your find!
Note: This post is part of a new series of Disney FAQ posts. Going forward, I will answer some of the most common questions I get in these types of posts so everyone will have the answer. If you have a Disney-related question, please shoot me a quick email here with your question.