Buzzy (Cranium Command)
Last Updated on: March 3rd, 2023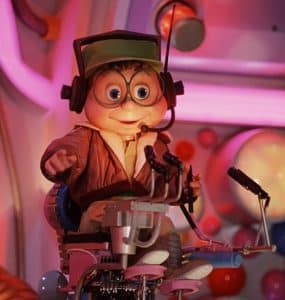 Who is Buzzy?
Buzzy is a fictional character from the 1989 Disney attraction "Cranium Command" that was located at the Wonders of Life pavilion at Epcot in Walt Disney World Resort. He was voiced by actor and musician Scott Curtis. He is the central character of the attraction and serves as the "pilot" of the human body, which is the setting of the attraction. Buzzy is a small puppet-like figure who is controlled by a real-life actor and serves as the guide for the audience throughout the attraction, introducing them to the various systems of the human body and interacting with other characters. The attraction is closed since 2007.
The Collection:
Here is the Internet's largest collection of Buzzy -related movies, TV shows, toys and other products. As always, new pieces are added to this collection regularly.
Park Appearances
---
Related Products
At the former Wonders of Life pavilion in EPCOT (1989-2007), families could learn about the human body, frontiers of medicine, physical fitness and the joy of living….
---
---