A Low Down Dirty Shame (Hollywood Pictures Movie)
Here is everything you need to know about the amazing Hollywood Pictures movie A Low Down Dirty Shame including casting, reviews, fun facts and more. I hope you find this listing informative and helpful!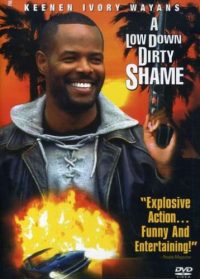 A Low Down Dirty Shame Details:
Here's the action-packed hit that's armed with explosive entertainment and dangerously funny comedy! Writer, director, and star Keenen Ivory Wayans is Shame, a down-on-his-luck ex-cop turned private investigator. He's hired by drug enforcement officials to track down his seductive former girlfriend — and $20 million in stolen drug money! With his trusty sidekick Peaches (Jada Pinkett Smith), Shame aims to make a buck and clear his name in what becomes his wildest and most dangerous assignment ever! Fast and fun, A LOW DOWN DIRTY SHAME is loaded with laughs and ready for action!
Key Cast:
Keenen Ivory Wayans: Andre Shame
Jada Pinkett: Peaches
Andrew Divoff: Ernesto Mendoza
Charles S. Dutton: Sonny Rothmiller
Salli Richardson: Angela Flowers
Chris Spencer: Benny
Corwin Hawkins: Wayman
Don Diamont: Chad
Gary Cervantes: Luis
Gregory Sierra: Captain Nunez
Andrew Shaifer: Bernard
Kim Wayans: Diane
René Hicks: Hooker
Key Crew:
Director: Keenen Ivory Wayans
Producer: Eric L. Gold, Joe Roth, Lee R. Mayes, Michael Waxman. Roger Birnbaum
Writer: Keenen Ivory Wayans