Candleshoe (1977 Movie)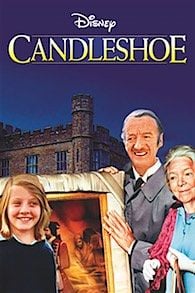 Candleshoe Description:
Welcome to Candleshoe, a stately English manor where a swashbuckling pirate hid a fortune in Spanish doubloons centuries ago. And that's what young orphan Casey and a sly con man are determined to find. But first she must dupe Candleshoe's widowed owner into believing she's her long-lost granddaughter! Casey eventually discovers there may be an even greater treasure at Candleshoe – the love of a happy family.
Key Cast Members:
Jodie Foster: Casey Brown
David Niven: Priory
Helen Hayes: Lady St. Edmund
Leo McKern: Bundage
Veronica Quilligan: Cluny
Ian Sharrock: Peter
Sarah Tamakuni: Anna
David Samuels – Bobby
John Alderson: Jenkins
Mildred Shay: Mrs. McCress
Michael Balfour: Mr. McCress
Sydney Bromley: Mr. Thresher
Michael Segal – Train Guard
Vivian Pickles: Grimsworthy
---
Related Articles:
---