In the Army Now (Hollywood Pictures Movie)
Here is everything you need to know about the amazing Hollywood Pictures movie In the Army Now including casting, reviews, fun facts and more. I hope you find this listing informative and helpful!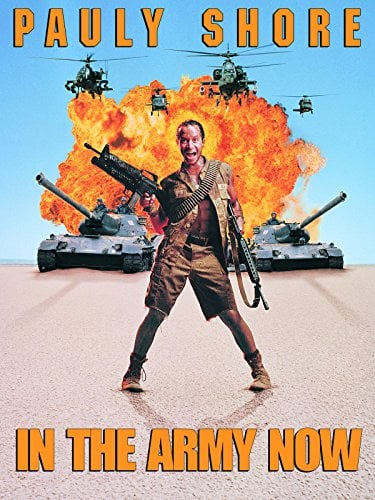 In the Army Now Details:
Pauly Shore is definitely not one of the few good men Army recruitment has in mind for molding into a soldier. But that doesn't stop pacifist Pauly from signing up for a hitch in the Reserves in order to cash in on all the great perks, including free room and board and a steady salary for doing minimal work. Now, this man's Army is putting Pauly to the test. And Pauly the military misfit is serving his country as only he can, and single-handedly putting the Army on Red Alert.
Key Cast:
Pauly Shore: Private First Class Bones Conway
Andy Dick: Private Jack Kaufman
Lori Petty: Private Christine Jones
David Alan Grier: Private Fred Ostroff
Esai Morales: Staff Sergeant Stern
Lynn Whitfield: Drill Sergeant Ladd
Art LaFleur: First Sergeant Brandon T. Williams
Fabiana Udenio: Gabriella
Glenn Morshower: Recruiting Sergeant Richard Day
Beau Billingslea: Sergeant Daniels
Peter Spellos: Mr. Quinn
Brendan Fraser: Link
Key Crew:
Director: Daniel Petrie Jr
Producer: Michael Rotenberg
Screenplay: Ken Kaufman, Stu Krieger, Daniel Petrie, Jr., Fax Bahr and Adam Small