Jack (Hollywood Pictures Movie)
Here is everything you need to know about the amazing Hollywood Pictures movie Jack including casting, reviews, fun facts and more. I hope you find this listing informative and helpful!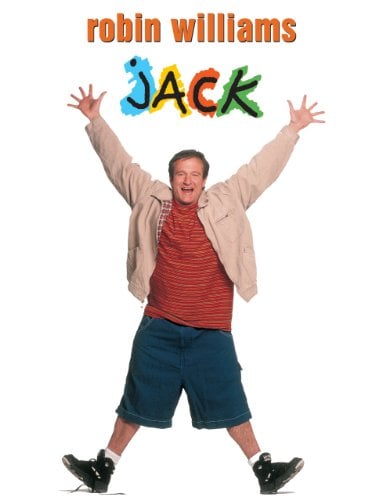 Jack Details:
Comedy favorite Robin Williams lights up the screen in JACK, the acclaimed hit that had critics and audiences cheering! Williams stars as a mischievous 10-year-old who acts like any other boy his age, except he's in a grown-up's body. It's nonstop laughs as Jack embarks on the greatest adventure of his young life … the fifth grade. In his wildest role ever, Williams takes you on a hilarious ride as Jack explores the ups and downs of life from a kid's point of view! With Bill Cosby, and sexy Fran Drescher, Diane Lane, and Jennifer Lopez — join the millions of moviegoers who loved this outrageous comedy hit!
Key Cast:
Robin Williams: Jack Powell
Diane Lane: Karen Powell
Brian Kerwin: Brian Powell
Jennifer Lopez: Miss Marquez
Bill Cosby: Lawrence Woodruff
Fran Drescher: Dolores Durante
Adam Zolotin: Louis Durante
Todd Bosley: Eddie
Seth Smith: John-John
Mario Yedidia: George
Michael McKean: Paulie
Allan Rich: Dr. Benfante
Keone Young: Dr. Lin
Allison Whitbeck: Lucy
Dwight Hicks: High School Principal
Mark Coppola: Radio Personality
Al Nalbandian: Principal McGee
Key Crew:
Director: Francis Ford Coppola
Producers: Ricardo Mestres, Francis Ford Coppola and Fred Fuchs
Writers: James DeMonaco and Gary Nadeau