Naples Ristorante e Pizzeria (Disneyland)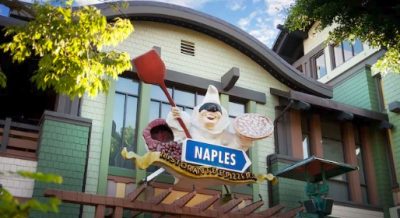 Naples Ristorante e Pizzeria Description:
At Naples Ristorante e Pizzeria, savor bold and satisfying Italian flavors loved the world over—every dish on the menu is pure perfezione!
Enter one of the premier dining destinations at Downtown Disney District for a pleasing experience in more ways than one. With whimsical décor inspired by Carnivale, Naples Ristorante features an open-air kitchen, impressive wine cellar and spacious, 2-story dining room that offer a feast for your eyes as well as your palate!
Begin your culinary adventure with a selection of zuppa, insalate or piccoli piatti—soup, salad or small plates—including bruschetta and fried calamari. Tantalizing entrees transport guests straight to "The Boot," with traditional eggplant, chicken and fish dishes or specialties like house-made pastas and thin-crust, wood-fired pizzas. The kids' menu comes complete with fun puzzles and games sure to please the 10-and-under set.
Save room for some of the most indulgent Italian desserts this side of the Atlantic—from cannoli and cheesecake to tiramisu, gelato and more.
Mangiare!
Demanding gourmands can order the same amazing food on-the-go at Napolini—right next door! The restaurant's quick-service counterpart features its famous wood-fired pizzas by the slice, freshly prepared boxed salads and panini for hearty meals when you're short on time.
Brought to You by Patina
Naples Ristorante e Pizzeria is the brainchild of the Patina Restaurant Group, co-founded by restaurateur Nick Valenti and master chef Joachim Splichal. Known for providing world-class cuisine at cultural landmarks throughout the United States, Patina currently owns and operates more than 60 dining locations.
All menu items are subject to change without notice
---
---
Related News:
---
Related Articles:
---