Rushmore (Touchstone Movie)
Here is everything you need to know about the amazing Touchstone movie Rushmore including casting, reviews, fun facts and more. I hope you find this listing informative and helpful!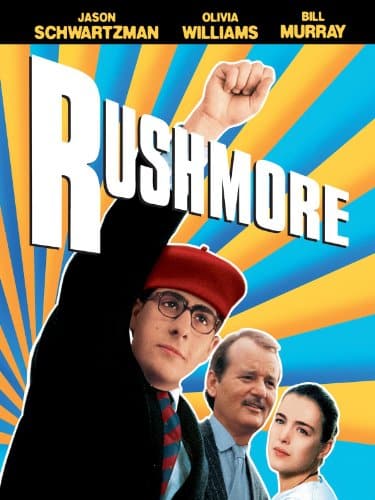 Rushmore Details:
RUSHMORE is the story of a gifted, rebellious teenager named Max Fischer (Jason Schwartzman), a 10th grader at elite Rushmore Academy. Editor of the school newspaper, captain or president of innumerable clubs and societies, Max is also one of the worst students in the school, and the threat of expulsion hangs permanently over his head. Max's world is rocked when he falls for elegant 1st grade teacher Miss Cross (Olivia Williams) and he plans to erect an aquarium in her honor — then finds himself competing for her affections with his friend, steel tycoon Mr. Blume (Bill Murray), the wealthy father of two of his classmates.
Key Cast:
Jason Schwartzman: Max Fischer
Bill Murray: Herman Blume
Olivia Williams: Rosemary Cross
Seymour Cassel: Bert Fischer
Brian Cox: Dr. Nelson Guggenheim
Mason Gamble: Dirk Calloway
Sara Tanaka: Margaret Yang
Connie Nielsen: Mrs. Calloway
Luke Wilson: Dr. Peter Flynn
Stephen McCole: Magnus Buchan
Kumar Pallana: Mr. Littlejeans
Alexis Bledel: Student
Key Crew:
Director: Wes Anderson
Producers: Barry Mendel and Paul Schiff
Writers: Wes Anderson and Owen Wilson
---
Related Articles:
---