Shanghai Knights (Touchstone Movie)
Here is everything you need to know about the amazing Touchstone movie Shanghai Knights including casting, reviews, fun facts and more. I hope you find this listing informative and helpful!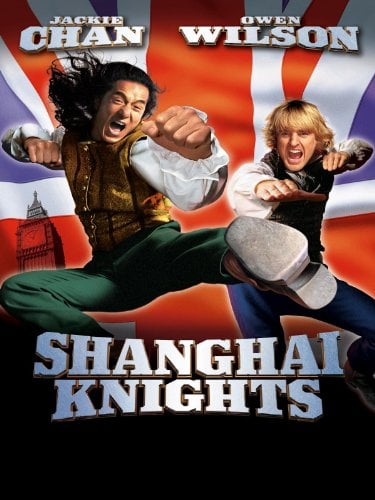 Shanghai Knights Details:
Jackie Chan and Owen Wilson jump back in the saddle for SHANGHAI KNIGHTS, the hilarious sequel to the hit action-comedy SHANGHAI NOON. When Chon Wang (Chan) gets news of his estranged father's murder in Shanghai, he leaves his honorable life as Carson City's sheriff in a cloud of dust and reunites with his yarn-spinning sidekick, Roy O'Bannon (Wilson). Together they make their way to London on a daring quest for honor and revenge. Hilarious escapades and hair-raising adventures ensue as our heroes find themselves in the middle of a devious plot to eliminate the entire royal family. And Chon gives Victorian Britain a royal kick in the pants as he tries to avenge his father's death and keep love-struck Roy away from his sister!
Key Cast:
Jackie Chan: Chon "John" Wang / "John Wayne"
Owen Wilson: Roy O'Bannon / "Roy Rogers"
Fann Wong: Chon Lin
Aaron Johnson: Charlie Chaplin
Aidan Gillen: Lord Nelson Rathbone
Donnie Yen: Wu Chow
Tom Fisher: Arthur "Artie" Doyle
Oliver Cotton: Jack the Ripper
Kim Chan: Chon Wang and Chon Lin's father
Gemma Jones: Queen Victoria
Tom Wu: Lead Boxer Liu
Kelly-Marie Kerr: Clara
Constantine Gregory: the Mayor of New York City
Ray Donn: Chinese villager (uncredited)
Barbara Nedeljáková: Debutante
Anna-Louise Plowman: Debutante
Georgina Chapman: Debutante
Daisy Beaumont: Cigarette girl
Alison King: Prostitute
Key Crew:
Director: David Dobkin
Producers: Roger Birbaum, Gary Barber and Jonathan Glickman
Writers: Alfred Gough and Miles MIllar
---
Related Articles:
---