Shopgirl (Touchstone Movie)
Here is everything you need to know about the amazing Touchstone movie Shopgirl including casting, reviews, fun facts and more. I hope you find this listing informative and helpful!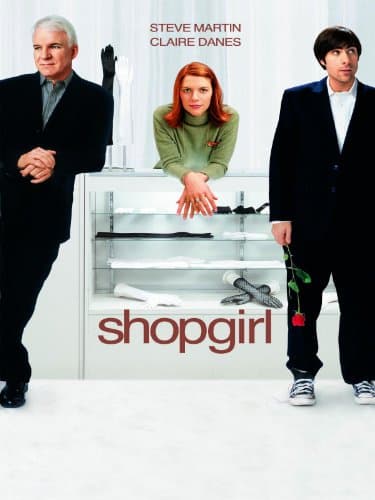 Shopgirl Details:
Based on Steve Martin's best-selling novella, and starring Golden Globe(R) winner Claire Danes, Steve Martin, and Jason Schwartzman, SHOPGIRL is a disarmingly funny love story. Mirabelle, brilliantly played by Danes, is an aspiring artist working behind the glove counter at a Beverly Hills department store when she meets two very different men — Jeremy (Schwartzman), a socially inept guy who doesn't seem to be going anywhere, and Ray (Martin) a wealthy entrepreneur who has the world at his feet. Filled with the mixed signals and missteps of a modern romance, SHOPGIRL is a fresh and witty, warm, and funny romantic comedy you can't help but fall in love with.
Key Cast:
Steve Martin: Ray Porter
Claire Danes: Mirabelle Buttersfield
Jason Schwartzman: Jeremy
Bridgette Wilson-Sampras: Lisa Cramer
Sam Bottoms: Dan Buttersfield
Frances Conroy: Charlotte Buttersfield
Rebecca Pidgeon: Christie Richards
Samantha Shelton: Loki
Gina Doctor: Del Ray
Clyde Kusatsu: Mr. Agasa
Key Crew:
Director: Anand Tucker
Producers: Ashok Amritraj, Jon Jashni, Steve Martin
Screenplay: Steve Martin
---
Related Articles:
---