Snow Dogs (2002 Movie)
Last Updated on: June 7th, 2022
Here is everything you need to know about the amazing Disney movie Snow Dogs including casting, reviews, fun facts and more. I hope you find this listing informative and helpful!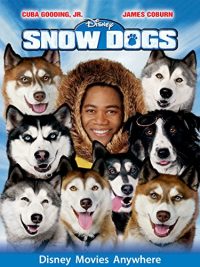 Snow Dogs Description
In the Disney film Snow Dogs, eight adorable but mischievous dogs get the best of dog hater Ted Brooks when he leaves his successful Miami Beach dental practice for the wilds of Alaska to claim his inheritance – seven Siberian huskies and a border collie – and discover his roots. As Ted's life goes to the dogs, he rises to the occasion and vows to learn to mush with his inheritance.
Key Cast Members:
Cuba Gooding Jr.: Dr Ted Brooks
Joanna Bacalso: Barb
James Coburn: James "Thunder Jack" Johnson
Sisqó: Dr. Rupert Brooks
Nichelle Nichols: Amelia Brooks
Christopher Judge: Dr. Brooks
Michael Bolton: Himself
Emmet Walsh: George
Brian Doyle-Murray: Ernie
Graham Greene: Peter Yellowbear
Jean Michel Paré: Olivier
Jason Pouliotte: Sneed Brother #1
David Boyce: Sneed Brother #2
Frank C. Turner: Neely
Ron Small: Arthur
Alison Matthews: TV Reporter
Jascha Washington: Young Ted
Linda Dahling: Mrs. Yepremian
Danelle Folta: Rollerblader with Dog
Peter Musooli: Valet
Lossen Chambers: Receptionist
Andrea Butterfield: Patient
Angela Moore: Lucy
Jim Belushi: the voice of Demon
Jane Sibbett: the voice of Nana
Richard Steven Horvitz: the voice of Scooper