Star Wars: Galactic Starcruiser | Disney World Star Wars Hotel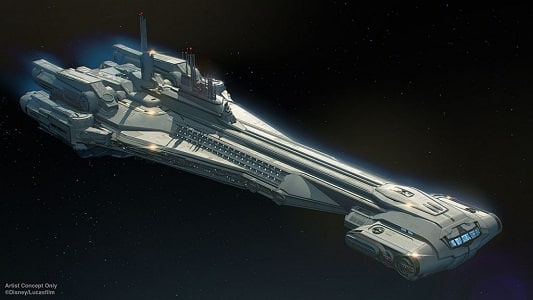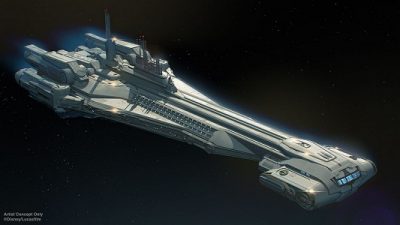 Disney announced last summer that, in addition to the new Star Wars: Galaxy's Edge section of Disney's Hollywood Studios, they would be developing a new Star Wars hotel nearby. At the time, all we got was some artist renderings and we were told that the new resort would be an immersive experience unlike any of the existing ones.
Recently, the Disney Parks Blog told us the name of the new Star Wars Hotel- Star Wars: Galactic Starcruiser. They also gave us a bit more detail as to what we can expect from the new Walt Disney World Star Wars hotel. Here is what they shared:
This first-of-its-kind resort will combine luxury with complete immersion into an authentic Star Wars story. Guests' journey through space will start when everyone departs together for a multiday Stars Wars adventure by boarding a starship alive with characters and stories that unfold all around them during a voyage through the galaxy.
At the resort, guests immediately become active citizens of the galaxy and can dress up in the proper attire. Every resort window will also have a view into space. The opportunity for immersion at this resort will also stand out among all Disney resorts around the globe, as it will be seamlessly connected to Star Wars: Galaxy's Edge at Disney's Hollywood Studios, allowing guests a total Star Wars experience.
As always, I will be adding updates here as more details about the new Disney World Star Wars hotel are released, so be sure to subscribe and stay tuned!
Update 2/22/18: Disney has released a few more looks into what the experience will be like at the new Disney World Star Wars Hotel. Check out the amazing concept art they just shared:
Update 5/30/18: We now know where the new Disney World Star Wars hotel will be located. According to the Disney Parks blog, the new hotel will be located on the south side of Disney's Hollywood Studios, just east of World Drive. This places it next to Star Wars: Galaxy's Edge, allowing for a fully-immersive Star wars experience for guests.
Update 11/17/18: We found out at today's Destination D event that the new resort will be a fully immersive, multi-day Star Wars adventure aboard a luxury starship. Here is some new concept art that was also shared at the event (source):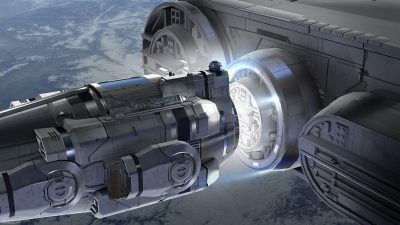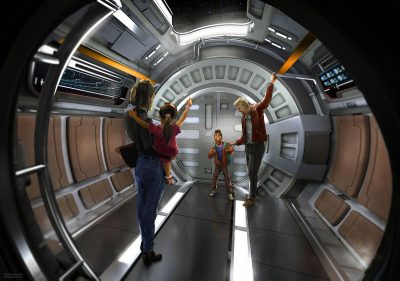 Update 8/25/19: We've learned a ton about the new Star Wars hotel over the past 3 days as D23 has progressed. Here is a pretty detailed rundown of the guest experiences from the Disney wrap-up release:
The adventure begins when guests arrive at the Galactic Starcruiser Terminal at Walt Disney World and check in for their two-night experience.

Guests will be invited to enter a Launch Pod for transport into space. Through windows above, they'll see themselves leave the real world behind as they jump to hyperspace and draw closer and closer to the Halcyon.
When the Launch Pod docks with the Halcyon and the airlock opens, guests will step into the ship's main deck Atrium to begin their journey through a galaxy far, far away.
A visit aboard the Halcyon becomes a multi-day story that interweaves with members of the crew, other passengers, familiar Star Wars characters, and an excursion to Star Wars: Galaxy's Edge at Disney's Hollywood Studios.

The all-immersive experience also features entertaining activities, such as:

Wielding a lightsaber while facing off against a training remote, where guests just may discover their own connection with the Force.

Visiting the starcruiser's Bridge to learn about ship systems and how to operate them, including navigation and defense – skills that may just come in handy during a journey through this adventure-filled galaxy.
Update 5/4/21: Disney has released a ton more details about Star Wars: Galactic Starcruiser in a launch date press release sent out today:
Star Wars: Galactic Starcruiser will fully immerse guests in a galaxy far, far away when it debuts in 2022 at Walt Disney World Resort in Florida, going beyond anything Disney has ever created before. As part of this first-of-its-kind vacation experience, guests become the heroes of their own stories during a two-day, two-night adventure where they see, feel and live Star Wars.

Star Wars: Galactic Starcruiser invites guests into a new kind of "storyliving" as they travel the galaxy in style aboard the glamorous Halcyon starcruiser, known for its impeccable service and exotic destinations. They will stay in well-appointed cabins, experience exquisite dining and out-of-this-world entertainment, visit Star Wars: Galaxy's Edge at Disney's Hollywood Studios, and much more.

Throughout the journey, guests' choices will determine their personal adventures by interacting with characters, crew and other passengers they meet as they become part of the action and the broader Star Wars saga. Decisions guests make will determine how their individual stories unfold as they seize control of their destinies – and potentially impact the fate of the galaxy.
Disney Park(s) in this Post:
Disney's Hollywood Studios
---
Related News:
---
Related Articles:
---