Summer of Sam (Touchstone Movie)
Here is everything you need to know about the amazing Touchstone movie Summer of Sam including casting, reviews, fun facts and more. I hope you find this listing informative and helpful!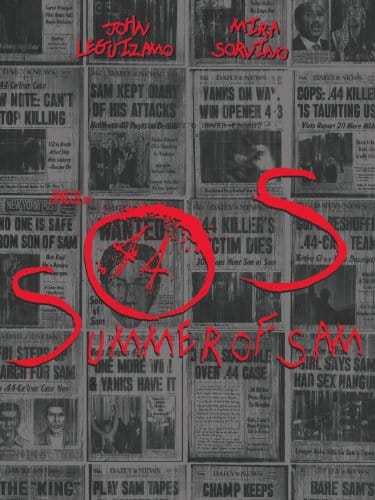 Summer of Sam Details:
It didn't get any hotter than the summer of 1977 in New York City. As temperatures soared well into the hundreds for endless days, the city was seared by its own heat, sweat and energy. With the unrelenting swelter, things started to change in the city and it made everybody a little tense and crazy. Looters poured into the streets as a blackout plunged New York into darkness and fear; a mysterious psychopath began gunning down strangers in the night at random. Dubbed "Son of Sam" by the tabloids that luridly reported his killing spree, the .44-caliber killer terrorized the city with a steady streak of grisly slayings. With the media playing an integral role in fueling the fear and paranoia, the whole city became a hotbed of suspicion and panic, captivating not only New York, but also the entire world. With trademark virtuosity, filmmaker Spike Lee goes into the throbbing heart of the Bronx during this unbelievable summer to paint a portrait that is both intimate and panoramic. John Leguizamo, Adrien Brody, Mira Sorvino and Jennifer Esposito lead an ensemble cast in "Summer of Sam," which chronicles how Son of Sam's plague of terror disintegrated a neighborhood, turned friends against each other and transformed trust into dread. The summer of 1977 turned into the SUMMER OF SAM. Touchstone Pictures presents A 40 Acres and a Mule Filmworks Production, A Spike Lee Joint, "Summer of Sam." Directed by Spike Lee, from a screenplay written by Victor Colicchio, Michael Imperioli and Spike Lee, the film is produced by Jon Kilik and Spike Lee. Executive producers are Michael Imperioli and Jeri Carroll-Colicchio.
Key Cast:
John Leguizamo: Vinny
Adrien Brody: Ritchie
Mira Sorvino: Dionna
Jennifer Esposito: Ruby
Michael Rispoli: Joey T
Saverio Guerra: Woodstock
Brian Tarantina: Bobby Del Fiore
Al Palagonia: Anthony
Ken Garito: Brian
Bebe Neuwirth: Gloria
Patti LuPone: Helen
Mike Starr: Eddie
Anthony LaPaglia: Detective Lou Petrocelli
Roger Guenveur Smith: Detective Curt Atwater
Ben Gazzara: Luigi
Joe Lisi: Tony Olives
James Reno: Crony
Arthur Nascarella: Mario
John Savage: Simon
Jimmy Breslin: himself
Michael Badalucco: Son of Sam
Spike Lee: John Jeffries
Lucia Grillo: Chiara
Michael Imperioli: Midnite
John Turturro: Voice of Harvey the Dog
Kim Director: Dee
Michael Sorvino: Bowler at Diner
Key Crew:
Director: Spike Lee
Producers: Jon Kilik and Spike Lee
Writers: Victor Colicchio, Miichael Imperioli and Spike Lee
---
Related Articles:
---