The Jungle Book: Disney Classics Mobile App
Last Updated on: February 11th, 2019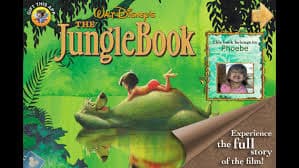 Read Along, Play Games and Explore!
An Enchanting Interactive Adventure!
Enjoy Coloring Pages, Puzzles, Musical Games and more in this hands-on App!
Follow the classic tale of a boy named Mowgli and his jungle friends as they face the dangerous tiger Shere Khan and the unknown world of the humans.
The Jungle Book: Disney Classics Mobile App Features include:
Reading modes for all ages: Read to Me or Read By Myself!
Coloring Pages and Interactive Puzzles throughout the story!
Play a challenging Memory Game or tap a song on the Bongo Drum!
Sing along to "The Bare Necessities" with your pal Baloo!
Beautiful illustrations, professional narration and sound effects!
A modern twist on the timeless story, The Jungle Book: Disney Classics combines delightful storytelling with unique interactive elements!