The Life Aquatic with Steve Zissou (Touchstone Movie)
Here is everything you need to know about the amazing Touchstone movie The Life Aquatic with Steve Zissou including casting, reviews, fun facts and more. I hope you find this listing informative and helpful!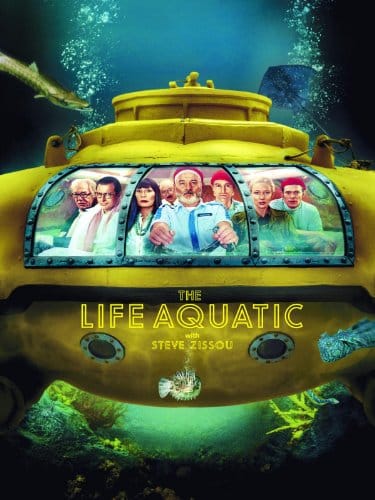 The Life Aquatic with Steve Zissou Details:
Internationally famous oceanographer Steve Zissou (Bill Murray) and his crew — Team Zissou — set sail on an expedition to hunt down the mysterious, elusive, possibly nonexistent Jaguar Shark that killed Zissou's partner during the documentary filming of their latest adventure. They are joined on their voyage by a young airline co-pilot, who may or may not be Zissou's son (Owen Wilson), a beautiful journalist (Cate Blanchett) assigned to write a profile of Zissou, and his estranged wife and co-producer, Eleanor (Anjelica Huston). They face overwhelming complications including pirates, kidnapping, and bankruptcy.
Key Cast:
Bill Murray: Steve Zissou
Owen Wilson: Edward "Ned" Plimpton/Kingsley Zissou
Cate Blanchett: Jane Winslett-Richardson
Anjelica Huston: Eleanor Zissou
Willem Dafoe: Klaus Daimler
Jeff Goldblum: Alistair Hennessey
Michael Gambon: Oseary Drakoulias
Bud Cort: Bill Ubell, "Bond Company Stooge"
Noah Taylor: Vladimir Wolodarsky
Seu Jorge: Pelé dos Santos
Robyn Cohen: Anne-Marie Sakowitz
Waris Ahluwalia: Vikram Ray
Niels Koizumi: Bobby Ogata
Pawel Wdowczak: Renzo Pietro
Matthew Gray Gubler: Nico, Intern #1
Antonio Monda: himself
Isabella Blow: Antonia Cook
Seymour Cassel: Esteban du Plantier
Key Crew:
Director: Wes Anderson
Producers: Wes Anderson, Barry mendel and Scott Rudin
Writers: Wes Anderson and Noah Baumbach
---
Related Articles:
---