The Pacifier (2005 Movie)
Last Updated on: June 7th, 2022
Here is everything you need to know about the amazing Disney movie The Pacifier including casting, reviews, fun facts and more. I hope you find this listing informative and helpful!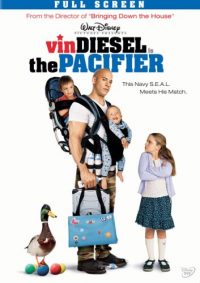 The Pacifier Description:
In Disney's The Pacifier, Lt. Shane Wolfe is a tough-as-nails Navy S.E.A.L. who has controlled military operations in every corner of the globe. Now the ultimate test comes when he's assigned to protect the home front – as in a house loaded with five out-of-control kids! But even when he trades combat gear for diapers and juice boxes, it's not just a babysitting job – it's an adventure!
Key Cast Members:
Vin Diesel: Lieutenant Shane Wolfe
Lauren Graham: Claire Fletcher
Brittany Snow: Zoe Plummer
Max Thieriot: Seth Plummer
Morgan York: Lulu Plummer
Kegan and Logan Hoover: Peter Plummer
Bo and Luke Vink: Baby Tyler Plummer
Faith Ford: Julie Plummer
Chris Potter: Captain Bill Fawcett
Carol Kane: Helga
Brad Garrett: Vice Principal Dwayne Murney
Tate Donovan: Howard Plummer
Denis Akiyama and Mung-Ling Tsui: Mr. and Mrs. Chun