The Three Musketeers (1993 Movie)
Last Updated on: June 7th, 2022
Here is everything you need to know about the amazing Disney movie The Three Musketeers including casting, reviews, fun facts and more. I hope you find this listing informative and helpful!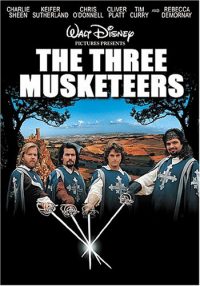 The Three Musketeers Description
A star-studded comedy-adventure that dazzled moviegoers everywhere! It's the action-packed tale of three loyal swordsmen (Charlie Sheen, Kiefer Sutherland, Oliver Platt) who are joined by an eager recruit (Chris O'Donnell) to protect the King of France. Together, the foursome battle enormous odds in their attempt to defeat an evil royal advisor (Tim Curry) and a seductive envoy (Rebecca De Mornay) plotting to overthrow France's crown — fighting against both time and scores of enemies! You'll cheer out loud when these exciting musketeers face danger, fun, and adventure at every turn — proving they are the greatest swashbucklers who ever lived!
Key Cast Members:
Charlie Sheen: Aramis
Kiefer Sutherland: Athos
Chris O'Donnell: D'Artagnan
Oliver Platt: Porthos
Tim Curry: Cardinal Richelieu
Rebecca De Mornay: Milady de Winter
Gabrielle Anwar: Queen Anne
Michael Wincott: Captain Rochefort
Paul McGann: Girard and Jussac
Julie Delpy: Constance
Hugh O'Conor: King Louis
Christopher Adamson: Henri
Herbert Fux: an Innkeeper