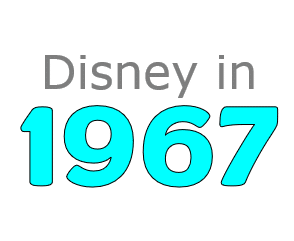 The Walt Disney Company has a rich and lengthy history with decades of amazing movies, shows and park experiences. To commemorate Disney's 100th birthday this year, I am spotlighting the company's history year by year in this new 'Disney by the Years' series.
Here is a quick rundown of everything that happened in the world of Disney in the year 1967. I hope you find this lookback in time helpful and entertaining.
Disney Company Headlines in 1967:
With Walt dying in December 1966, his company entered 1967 facing a ton of uncertainty. Some stability was brought to the company in June, when Walt's brother, Roy O. Disney was named President, CEO and Chairman of the company and Donn Tatum and Card Walker assumed the roles of Executive Vice Presidents.
Disney Movies Headlines in 1967:
In 1965, Disney released several movies, including:
And Disney rereleased one movie in 1967 – Snow White and the Seven Dwarfs on June 11.
Disney Parks Headlines in 1967:
Disneyland Headlines:
Disneyland saw a pretty significant overhaul come to fruition in 1967 as the 'New Tomorrowland' opened in the Summer. The rebooted land boasted a number of new attractions including the PeopleMover, Rocket Jets, Adventure Thru Inner Space and the Carousel of Progress.
New Orleans Square also saw an iconic attraction make its debut in 1967 when the Pirates of the Caribbean boat ride opened on March 18.
Other notable changes at Disneyland include:
Disney World Headlines:
In 1967, Disney World was still 4 years away, but with Walt gone, there were questions whether or not it would proceed as planned. It didnt proceed exactly as planned as it ultimately focused more on the resort part of things rather than the larger city that Walt had envisioned, but the project was not scrapped as Roy decided to push on and make Disney World a tribute to his brother.
A huge hurdle in developing the Disney World project was overcome in February then the Reedy Creek Improvement District was approved by the Florida Legislature.
Also in 1967, the official groundbreaking for Disney World took place (May 30th).
Disney Television Headlines in 1967:
Despite Walt Disney's death in late 1966, the show he hosted, Walt Disney's Wonderful World of Color continued in 1967 and would so for 2 more years.
In February, the company released the now famous EPCOT film, which was hosted by Walt as it was produced just months before his death.
That's all for 1967. Stay tuned for in-depth looks at additional years in the very near future!