Here is everything you need to know about the amazing Disney movie Enchanted including casting, reviews, fun facts and more. I hope you find this listing informative and helpful!
Enchanted Description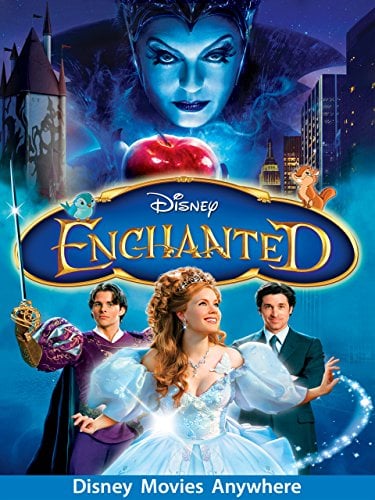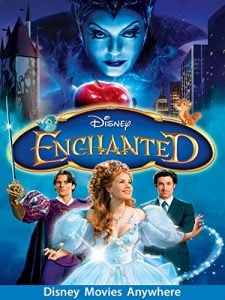 A fairy tale comes to life in this thoroughly original, new Disney Classic. Drawing inspiration from its classic heritage, Disney creates an inspired story unlike any you've experienced before. Filled with excitement, fun, and incredible music from the legendary Alan Menken, ENCHANTED is the ultimate fish-out-of-water adventure. For princess-to-be Giselle, life is a fairy tale — until she's banished from the animated land of Andalasia and thrust into the very unmagical, live-action world of modern-day Manhattan. When a cynical, no-nonsense divorce lawyer comes to her aid, little does he realize that this joyful, wide-eyed innocent is about to enchant him. This is the musical comedy that will have your entire family under its spell.
---
Enchanted Fun Facts
The film was directed by Kevin Lima, who also directed "A Goofy Movie" and "Tarzan."
The lead character, Giselle, is played by Amy Adams, who was nominated for a Golden Globe for her performance.
The film features several parodies of classic Disney animated films, including "Snow White and the Seven Dwarfs," "Cinderella," and "The Little Mermaid."
The role of Prince Edward was originally offered to Hugh Jackman, but he turned it down due to scheduling conflicts.
The film's budget was $85 million, which was the largest budget for a Walt Disney Pictures film at the time.
The famous "Central Park" scene where Giselle and Robert dance together was shot in a single take, with over 500 extras.
The character of Giselle was originally going to be played by Hollywood actress Reese Witherspoon, but she turned down the role.
The film features several original songs written by Alan Menken and Stephen Schwartz, who also wrote the songs for "The Little Mermaid," "Beauty and the Beast," and "Pocahontas."
---
Enchanted Cast:
Amy Adams: Giselle
Patrick Dempsey: Robert Philip
James Marsden: Prince Edward
Timothy Spall: Nathaniel
Susan Sarandon: Queen Narissa
Jeff Bennett and Kevin Lima: Pip
Rachel Covey: Morgan Philip
Idina Menzel: Nancy Tremaine
Julie Andrews: the Narrator
John Rothman: Carl
Paige O'Hara: Angela
Jodi Benson: Sam
Isiah Whitlock Jr.: Ethan Banks
Tonya Pinkins: Phoebe Banks
Jon McLaughlin: a ballroom singer
Emma Rose Lima: Bluebird and Fawn
Teala Dunn: Bunny
Fred Tatasciore: the Troll
Frank Welker: Destiny
---
Enchanted Crew:
Director: Kevin Lima
Producers: Barry Josephson and Barry Sonnenfeld
Music: Alan Menken
---
Enchanted Details
Enchanted Trailer:
---