Baby: Secret of the Lost Legend (1985 Touchstone Movie)
Here is everything you need to know about the amazing Touchstone movie Baby: Secret of the Lost Legend including casting, reviews, fun facts and more. I hope you find this listing informative and helpful!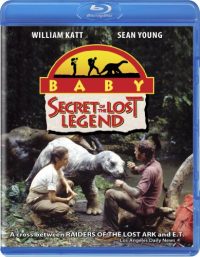 Baby: Secret of the Lost Legend Description:
In Touchstone Pictures' Baby: Secret of the Lost Legend, join a thrilling expedition deep in the forbidding jungle, where two modern scientists are on the trail of an amazing discovery! While studying rare fossils, they uncover a living, breathing legend, an enormous pair of Brontosauruses and a hatchling dinosaur alive in the heart of the rain forest! To protect this rare find, they must escape a world of unseen and certain danger. Through a tribe of mystical native warriors and into the grasp of an evil scientist, it's the ultimate battle to survive! Screen favorite Sean Young (NO WAY OUT) and William Katt (THE GREATEST AMERICAN HREO) ignite the screen in this entertaining adventure of gigantic proportions!
Key Cast Members:
William Katt: George Loomis
Sean Young: Dr. Susan Matthews-Loomis
Patrick McGoohan: Dr. Eric Kiviat
Julian Fellowes: Nigel Jenkins
Kyalo Mativo: Cephu
Hugh Quarshie: Kenge Obe
Olu Jacobs: Col. Nsogbu
Eddie Tagoe: Sgt. Gwambe
Edward Hardwicke: Dr. Pierre Dubois
---
Related Articles:
---