Breakfast of Champions (Hollywood Pictures Movie)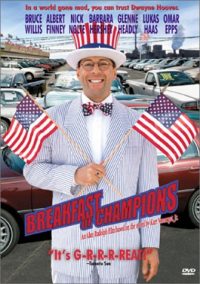 Breakfast of Champions Details:
Superstar Bruce Willis (THE SIXTH SENSE) stars in this critically acclaimed, offbeat comedy about a man who's having a hard time getting a grip on his life! A millionaire car salesman who runs the biggest dealership in Midland City, Dwayne Hoover (Willis) is a celebrity, loved and trusted by everyone. Then one day, he wakes up and realizes that his life is a total mess! But between the headaches posed by his pill-popping wife (Barbara Hershey — FALLING DOWN), a mistress (Glenne Headly — MR. HOLLAND'S OPUS) who won't leave him alone, and a cross-dressing sales manager (Nick Nolte — THE THIN RED LINE), Dwayne has picked a bad week for a midlife crisis! Based on the best-selling novel by Kurt Vonnegut Jr., this hilarious comedy and its incredible all-star cast will keep you laughing as Dwayne tries to keep from losing his mind!
Key Cast:
Bruce Willis as Dwayne Hoover
Albert Finney as Kilgore Trout
Nick Nolte as Harry LeSabre
Barbara Hershey as Celia Hoover
Glenne Headly as Francine Pefko
Valerie Perrine as Montana Wildhack
Lukas Haas as George "Bunny" Hoover
Omar Epps as Wayne Hoobler
Vicki Lewis as Grace LeSabre
Buck Henry as Fred T. Barry
Ken Campbell as Eliot Rosewater / Gilbert
Jake Johanssen as Bill Bailey
Will Patton as Moe the truck driver
Chip Zien as Andy Wojeckowzski
Owen Wilson as Monte Rapid
Alison Eastwood as Maria Maritimo
Shawnee Smith as Bonnie McMahon
Michael Jai White as Howell
Michael Duncan as Eli
Kurt Vonnegut, Jr. as Commercial director
Key Crew:
Director: Alan Rudolph
Producers: David Blocker and David Willis
Screenplay: Alan Rudolph
---
Related Articles:
---