Condorman (1981 Movie)
Here is everything you need to know about the amazing Disney movie Condorman including casting, reviews, fun facts and more. I hope you find this listing informative and helpful!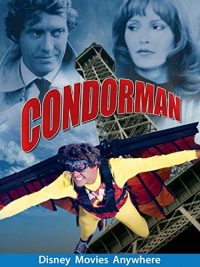 Condorman Description:
It's nonstop comical chaos when a comic book artist bumbles his way into international espionage after adopting the identity of Condorman, one of his comic book characters. When a beautiful Russian spy wants him to help her defect, his life explodes into more fantasy and excitement than all of his comic strips put together!
Key Cast Members:
Michael Crawford: Woodrow "Woody" Wilkins
Barbara Carrera: Natalia Rambova
Oliver Reed: Krokov
James Hampton: Harry
Jean-Pierre Kalfon: Morovich
Dana Elcar: Russ
Vernon Dobtcheff: Russian agent
Robert Arden: CIA Chief