Here is everything you need to know about the amazing Disney movie Condorman including casting, reviews, fun facts and more. I hope you find this listing informative and helpful!
Description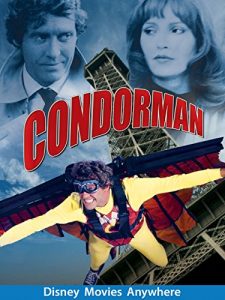 "Condorman" is a superhero action-comedy film released by Walt Disney Pictures in 1981. The movie is loosely based on the comic book character created by Robert Sheckley.
The story follows Woody Wilkins (played by Michael Crawford), a comic book writer and artist working for the CIA. Woody becomes embroiled in a real-life spy mission when he is asked to help a beautiful Russian KGB agent, Natalia Rambova (played by Barbara Carrera), defect to the West. To do this, Woody adopts the identity of his comic book superhero, "Condorman," equipped with high-tech gadgets and vehicles.
As Condorman, Woody goes on various adventures, confronting international criminals and using his gadgets to outsmart his enemies. His daring escapades lead to thrilling action sequences and comical situations.
Throughout the film, Woody's fictional heroics start to blur with reality, and he must come to terms with the consequences of his actions as a comic book creator. He also develops a deeper connection with Natalia as they work together to escape the clutches of the KGB.
"Condorman" is known for its mix of action, humor, and special effects. While it received mixed reviews from critics upon release, the film has garnered a cult following over the years, particularly among fans of superhero and adventure films.
Despite its cult status, "Condorman" did not achieve major box office success upon release. Nevertheless, it remains an enjoyable and nostalgic watch for audiences who appreciate its unique blend of comic book fantasy and spy movie elements.
---
Cast:
Michael Crawford: Woodrow "Woody" Wilkins
Barbara Carrera: Natalia Rambova
Oliver Reed: Krokov
James Hampton: Harry
Jean-Pierre Kalfon: Morovich
Dana Elcar: Russ
Vernon Dobtcheff: Russian agent
Robert Arden: CIA Chief
---
Crew:
Director: Charles Jarrott
Producer: Jan Williams
Music: Henry Mancini
---
Additional Details
---
Condorman Trailer:
---