Encino Man (Hollywood Pictures Movie)
Here is everything you need to know about the amazing Hollywood Pictures movie Encino Man including casting, reviews, fun facts and more. I hope you find this listing informative and helpful!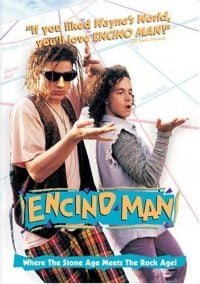 Encino Man Details:
Starring Pauly Shore, ENCINO MAN unearths the biggest laughs in 2 million years! The fun kicks off when two high school buddies dig up a frozen caveman in their backyard! Once the living fossil thaws out, the friends figure he's their ticket to being cool. But the plan backfires when the newcomer turns everyday life upside down, generating pre-hysterical craziness wherever he roams! Co-starring Sean Astin and Brendan Fraser, you'll definitely dig ENCINO MAN — the totally irreverent, totally awesome comedy that shows just how hilariously out-of-control things evolve once the stone age meets the rock age head-on!
Key Cast:
Sean Astin: David "Dave" Morgan
Brendan Fraser: Linkovich "Link" Chomovsky
Pauly Shore: Stanley "Stoney" Brown
Megan Ward: Robyn Sweeney
Robin Tunney: Ella
Michael DeLuise: Matthew "Matt" Wilson
Patrick Van Horn: Phil
Dalton James: Will
Rick Ducommun: Mr. Brush
Jonathan Quan: Kim
Rose McGowan: Nora
Michole White: Kathleen
Mariette Hartley: Mrs. Morgan
Richard Masur: Larry Morgan
Ellen Blain: Tenna Morgan
Sandra Hess: Cave Nug
Mike Diamente: Steve Morgan
Erick Avari: Raji
Gerry Bednob: Kashmir
Allen Russell: Redneck
Key Crew:
Director: Les Mayfield
Producers: George Zaloom, Hilton Green and Michael Rotenberg
Writers: George Zaloom and Shawn Schepps