Flubber (1997 Movie)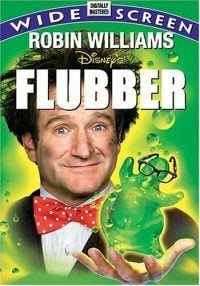 Flubber Plot:
Brilliant but befuddled Professor Phillip Brainard is on the brink of inventing a revolutionary energy source and missing his wedding to fiancee Dr. Sara Jean Reynolds. When Phillip experiments with a miraculous elastic goo, Flubber emerges, leaving him ecstatic, but unmarried! Philip soon discovers that substance, applied to anything, enables it to bounce super high and fast.
This was a remake of the 1961 Disney film The Absent-Minded Professor.
Key Cast Members:
Robin Williams: Professor Philip Brainard
Marcia Gay Harden: Dr. Sara Jean Reynolds
Christopher McDonald: Wilson Croft
Jodi Benson: the voice of Weebo
Raymond J. Barry: Chester Hoenicker
Clancy Brown: Smith
Ted Levine: Wesson
Wil Wheaton: Bennett Hoenicker
Edie McClurg: Martha George
Sam Lloyd: Coach Willy Barker
Scott Michael Campbell: Dale Jepner
Bob Sarlatte: Rutland coach
Julie Morrison: the voice of Weebette
Scott Martin Gershin: Flubber
Movie Trailer:
---
Related Articles:
---