Freaky Friday (2003 Movie)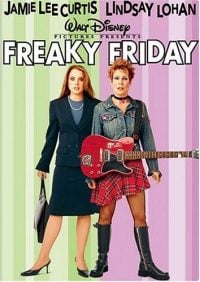 Freaky Friday Description:
In Disney's 2003 remake of Freaky Friday, Dr. Tess Coleman and her teenage daughter Anna have one thing in common – they don't relate to each other on anything. Then one night a little mystic mayhem changes their lives and they wake up to the biggest freak-out ever. Tess and Anna are trapped inside each other's body! But Tess's wedding is Saturday and the two must find a way to switch back – fast! Literally forced to walk in each other's shoes, will they gain respect and understanding for the other's point of view?
Key Cast Members:
Jamie Lee Curtis: Dr. Tess Coleman
Lindsay Lohan: Anna Coleman
Chad Michael Murray: Jake
Mark Harmon: Ryan
Harold Gould: Grandpa Alan
Stephen Tobolowsky: Mr. Elton Bates
Christina Vidal: Maddie
Ryan Malgarini: Harry Coleman
Haley Hudson: Peg
Rosalind Chao: Pei-Pei
Lucille Soong: Pei-Pei's mother
Willie Garson: Evan
Dina Waters: Dottie Robertson
Julie Gonzalo: Stacey Hinkhouse
Cayden Boyd: Harry's friend
Christopher Guest: Mr. Coleman
---
Related Articles:
---