Houseguest (Hollywood Pictures Movie)
Here is everything you need to know about the amazing Hollywood Pictures movie Houseguest including casting, reviews, fun facts and more. I hope you find this listing informative and helpful!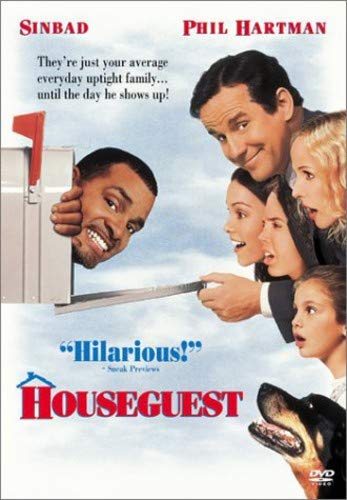 Houseguest Details:
Hollywood's leading funnyman Sinbad drops in for domestic laughs and comical chaos in this outrageously funny comedy the whole family will love. Con artist Kevin Franklin (Sinbad) is in a jam. On the run from the mob, his only escape is to impersonate the long-lost friend of an uptight lawyer (hilarious comedian Phil Hartman) — and move in with his dysfunctional family but pretending to be a wine expert, a golf pro and a world-famous dentist is no easy task. It's not long before his good-natured hosts discover the scam — and the mob discovers his whereabouts. Wildly entertaining and full of surprises, HOUSEGUEST brings home a delightful mix of charades, calamities and colourful comedy!
Key Cast:
Sinbad: Kevin Franklin
Phil Hartman: Gary Young
Kim Greist: Emily Young
Kim Murphy: Brooke Young
Chauncey Leopardi: Jason Young
Talia Seider: Sarah Young
Paul Ben-Victor: Pauly Gasperini
Tony Longo: Joey Gasperini
Jeffrey Jones: Ron Timmerman
Stan Shaw: Larry, the Tattoo Artist
Ron Glass: Dr. Derek Bond
Kevin Jordan: Steve 'ST-3', Brooke's boyfriend
Mason Adams: Mr. Pike
Patricia Fraser: Mrs. Nancy Pike
Don Brockett: Happy Marcelli
Kevin West: Vincent Montgomery
Ron Newell: Dr. Walter Kraft
Susan Chapek: Nurse Brenda
Kirk Baily: Stuart the Manager
Valerie Long: Sister Mary Winters
Wynonna Smith: Lynn, Kevin's fiancee
Jesse Rivera: Kevin, aged 12
Key Crew:
Director: Randall Miller
Producers: Joe Roth and Roger Birnbaum
Writers: Michael Di Gaetano and Lawrence Gay