Spaced Invaders (Touchstone Movie)
Here is everything you need to know about the amazing Touchstone movie Spaced Invaders including casting, reviews, fun facts and more. I hope you find this listing informative and helpful!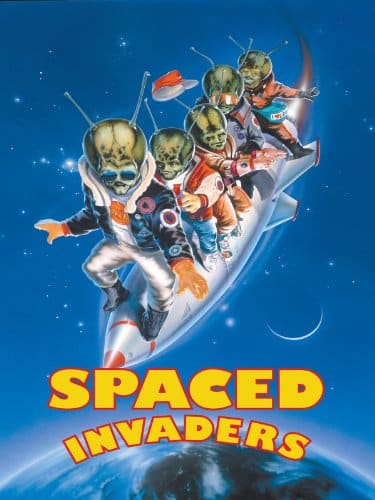 Spaced Invaders Details:
They're hip! They're hilarious! Earth will never be the same! It's a close encounter of the hilarious kind when five of the universe's coolest aliens crash-land on Planet Earth. Piloted by an ultra-hip Martian, the cosmic crew ends up in a sleepy Midwestern town. Unfortunately, it's Halloween night and the citizens mistake these spaced invaders for harmless trick-or-treaters. Instead of the global invasion they planned on, these misguided Martians bungle their way into a series of madcap misadventures! Get set for an outrageous blast of intergalactic fun and outlandish special effects in this whacked-out comedy-adventure!
Key Cast:
Douglas Barr: Sheriff Sam Hoxly
Royal Dano: Mr. Wrenchmuller
Ariana Richards: Kathy Hoxly
Gregg Berger: Steve W. Klembecker
Fred Applegate: Deputy Russell Pillsbury
Wayne Alexander: Vern Pillsbury / Verndroid
J.J. Anderson: Brian Hampton (Duck)
Patrika Darbo: Mrs. Vanderspool
Tonya Lee Williams: Ernestine Hampton
Kevin Thompson: Blaznee
Jimmy Briscoe: Captain Bipto
Tony Cox: Corporal Pez
Debbie Lee Carrington: Dr. Ziplock
Tommy Madden: Lieutenant Giggywig
Kevin Thompson: Blaznee
Jeff Winkless: Captain Bipto
Tony Pope: Corporal Pez
Joe Alaskey: Dr. Ziplock
Bruce Lanoil: Lieutenant Giggywig
Patrick Read Johnson: Commander / Enforcer Drone
Kirk Thatcher: Shortstuff
Key Crew:
Director: Patrick Read Johnson
Producer: Luigi Cingolani
Writers: Patricj Read Johnson and Scott Lawrence Alexander
---
Related Articles:
---