Straight Talk (Hollywood Pictures Movie)
Here is everything you need to know about the amazing Hollywood Pictures movie Straight Talk including casting, reviews, fun facts and more. I hope you find this listing informative and helpful!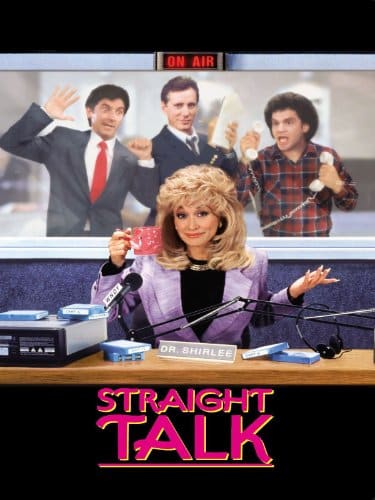 Straight Talk Details:
When down-on-her-luck country girl Shirlee Kenyon (Dolly Parton) walks through the wrong door at the right time, she accidentally becomes Chicago's newest talk-radio celebrity and turns the Windy City's hottest radio station upside down! With her homespun wit and down-home advice, Shirlee immediately wins listeners' hearts — but causes hilarious confusion for her ratings-conscious boss (Griffin Dunne) and comical havoc for the investigative reporter (James Woods) trying to uncover her mysterious past! If you're looking for no-nonsense advice on what hit movie offers you pure entertainment — you'll love every comical minute of STRAIGHT TALK!
Key Cast:
Dolly Parton: Shirlee Kenyon
James Woods: John "Jack" Russell
Griffin Dunne: Alan Riegert
Michael Madsen: Steve
Philip Bosco: Gene Perlman
Jerry Orbach: Milo Jacoby
Deirdre O'Connell: Lily
John Sayles: Guy Girardi
Teri Hatcher: Janice
Spalding Gray: Dr. David Erdman
Amy Morton: Ann
Charles Fleischer: Tony
Keith MacKechnie: Gordon
Jay Thomas: Zim Zimmerman
Paula Newsome: Ellen
Tracy Letts: Sean
John Gegenhuber: Waiter
Key Crew:
Director: Barnet Kellman
Producers: Carol Baum, Fred Berner, Robert Chartoff and Howard Rosenman
Writer: Craig Bolotin