Three Fugitives (Touchstone Movie)
Here is everything you need to know about the amazing Touchstone movie Three Fugitives including casting, reviews, fun facts and more. I hope you find this listing informative and helpful!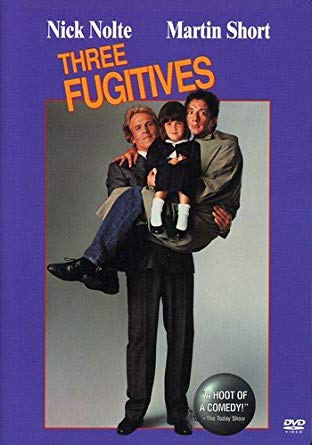 Three Fugitives Details:
Funnyman Martin Short plays an inept, klutzy bank robber who, on his first heist, grabs Nick Nolte as a hostage. Nolte plays a notorious ex-con who is trying to go straight, so naturally, no one believes he's innocent or Short guilty, forcing the mismatched pair to become reluctant partners in crime. Add to the mix-up Short's adorable six-year-old daughter who desperately tries to keep this very odd couple together on a hilarious wheel-screeching run for the Canadian border! There's no escaping the laughter and miles of slapstick humor in this hilarious comedy!
Key Cast:
Nick Nolte: Daniel James Lucas
Martin Short: Ned Perry
James Earl Jones: Detective Movan Duggan
Alan Ruck: Inspector Tenner
Sarah Doroff: Meghan "Meg" Perry
Kenneth McMillan: Horvath
David Arnott: Bank Teller
Lee Garlington: Constable Jane Karie
Bruce McGill: Charlie
Sy Richardson: Tucker
Rocky Giordani: Bowles
Stanley Brock: Release Sergent
Rick Hall: Dog Handler Billy
Brian Thompson: Second Thug
Jack McGee: Fisherman
Kathy Kinney: Receptionist
Larry Miller: Street Cop
Jeff Perry: Orderly #2
Dinah Lenney: Reporter #1
John Aylward: Second Cop
Tim De Zarn: First Cop
Rhoda Gemignani: Radio Announcer
Charles Noland: Bartender Dave
Albert Henderson: Man In Raincoat
Gary Armagnac: Cop #2
Dean Smith: Barry "Playboy" Jones
Mike MacDonald: Sergeant Snow
Michael Siegel: Cop #4
Key Crew:
Director: Francis Veber
Producer: Lauren Shuler Donner
Writer: Francis Veber
---
Related Articles:
---